28 juin 2010
1
28
/

06
/

juin
/

2010
12:45
The Blue Devils est une formation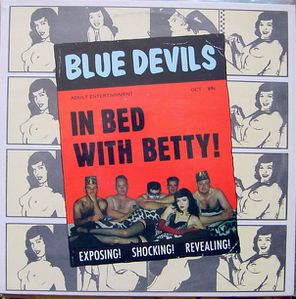 anglaise de Rockin' blues garage. Attention lorsque je dis garage je ne dit pas punk, il s'agit d'un groupe avec un son vintage ou le saxophone occupe une place prépondérante. Ils sont formé de Phil Ross(chant et harmonica), Dave Razorback (contrebasse), Ricky Dean (Saxophone et maracas), Shaun Sullivan (guitare) et Billy 'Pork chop' Oxley (batterie).
En 1995, ils enregistrent un 25 cm produit par Daryl Higman sur Fury Records In bed with Betty! F3041 contenant 10 compositions rockin' blues comme Betty page, Mystery girl, Boogie with you, She does thye do, Vibrations, Tail of a rattlesnake, Ross hoss, ica lady, Sweet love et Bloody mary des titres trés influencés par plusieurs styles le blues 1950's de gens comme John Lee Hooker et Elmore James, le white rock de la fin des fifties et certaines mélodies hypnotiques ne sont pas sans rappeller The Cramps.
Je possède également l'album cd Betty's mad dash! Fury (FCD 3041) de 1998 dans le même style que le 25 cm mais peut être un peu plus speed. On peut citer comme compositions originales l'instrumental Betty's mad dash (trés white rock) et les titres Mystery girl, She does to do, Dangerous, Bad boy, Pain in my heart, Stiletto, Betty Pager et Tail of the rattlesnake qui ont été dans un premier temps enregistrés sur Nervous records et certains présent sur le 25 cm.
Le reste est fait de reprises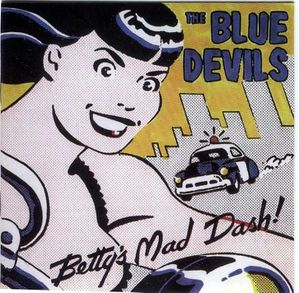 dans le style des Ho Boogie Chillum mais avec un son plus fifties de Shake your hips (blues de Slim Harpo), California sun (des Rivieras repris par les Ramones), Nobody's guy (The Recalls), Boogie Chillun' (Blues popularisé par John Lee Hooker), Baby you're mine (Ronnie Martin), Wish you would (blues de Billy Boy Arnold repris aussi par The Yardbirds), Rock n' roll guitar (white rock 1950's de Johnny Knight ), What d'I say (Ray Charles) et Who do you love (Bo Diddley).
On peut aussi noter le Ep 45 tours de Fury Records Gowild with Betty's Boys ( FEP 713) qui contient les compositions originales Bad boy, Pain in my heart, Mexicano love et stilletto.
En résumé un style assez original mais qui poura surprendre voir déplaire à certains amateur de rock n'roll et rockabilly.