1 juillet 2010
4
01
/

07
/

juillet
/

2010
17:23
Les Blue Cats est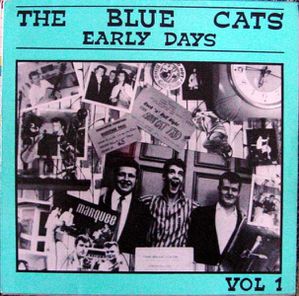 un des groupes phare du revival rockabilly britannique, ayant un style ni Néo rockabilly (comme les Polecats) ni Teddy boy rockabilly (comme Crazy Cavan & Rhythm Rockers) mais bien avec un son authentique trés inspiré par les premières faces de Gene Vincent and the Blue Caps.
Cette article est consacré aux premières faces des futurs membres des Blue Caps dans différentes formations antèrieurs dont les disques sont des collectors mais qui ont été compilé sur deux lp 33 t Rockhouse en 1984 The Blue Caps Early Days VOL.1 (LP 8404) et The Blue Cats Early Days Vol.2 (LP 8405).
L'histoire commence en 1977 lorsque Carlo Edwards rejoint comme guitare solo une formation rockabilly The South Rebels dans laquelle son frère Stef est batteur et ou Norman Doig tient la basse électrique qui enregistre un ep avec les titres Matchbox (Carl Perkins), Rockin' daddy (Sony Fisher), Tennessee Border (Hank Williams), Rock Therapy (Johnny Burnette & Rock n'roll trio) et la composition South rebel boogie. En 1978, Carlo quitte les Rebels pour Shazam un autre groupe de rock n'roll/rockabilly. Fin 1978, Carlo rejoint un nouveau groupe avec son frère steff à la batterie et au chant et à la contrebasse Dave Phillips, c'est ainsi que nait le Blue Cat Trio, Fin 1979 et début 1980, ils enregistrent des titres qui sortent en Eps avec un son déjas trés fifties pour l'époque soit Dancing Doll (Art Adams), Well, i knocked (Gene Vincent), Goofin' around (Bill Haley),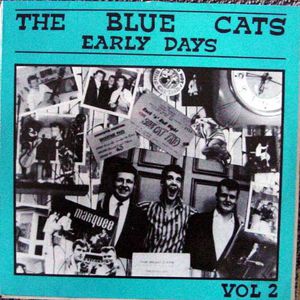 Rockabilly Boogie (Johnny Burnette & Rock n'roll trio), I flipped (Gene Vincent), I sure miss you (Gene Vincent), Pink and Black (Sonny Fisher), Sitting in the top of the world (popularisé par Bob Wills) et B-I-Bickey-Bi (Gene Vincent).
En Janvier 1980, le groupe au style Teddy Boys rock n' roll Little Tony and the Tennessee Rebels formé par Clint Bradley au chant (ancien membre des Chevys), Bruce 'Hog' Hobbs à la guitare solo, Mitch Caws à la basse et contrebasse et danny Kelly à la batterie enregistre en Janvier 1980 plusieurs titres dont certains sortent en ep, et c'est en Septembre 1980 que Clint rejoint le Blue cat trio qui devient alors les Blue Cats. Les tennessee rebels enregistrent de nombreuses titres (dont de nombreuses compositions originales) qui ravieront les amateurs de rockabilly teddy Boys soit Slap that bass (présent en 2 versions) , The turkey song, Frankfurt special (Elvis Presley) , Sweet caroline, Crazy catfish, Foll on baby, Baby's number one, Honey Hush (Johnny Burnette, Big Joe Turner), Ten Little women (Terry Noland), Blue Moon (Elvis Presley), Rock the barn, Crawhad Hole (Jack Earls) et Idle on parade. L'ensemble de ses titres sont présent sur les deux lps Rockhouse.