7 novembre 2011
1
07
/

11
/

novembre
/

2011
11:38
The Alphabets est une formation Rock 'n' roll,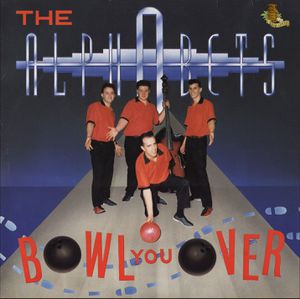 Jive et Rockabilly anglaise formée de Kev (guitare et leadeur chant), Mick (Batterie), Pete (guitare solo) et Stu (Contrebasse) en 1991 ils sortent l'album Blow you over sur Rockhouse records.
Les titres Blow you over, Step In To My Car et Bettin', Booze 'n' Chicks (le meilleur titre de l'album) sont des rockabilly rapides, I Want You Back est un slow rock, You Know It's True, Waddyasay, Hey Doll, Cover Girl, Little Honey, Slow Boat To China sont des jump jive avec choeurs dans le style des Keytones, Fallin' est un néo rockabilly teinté de rockin' blues Phantom est un instrumental rock 'n'roll et au niveau des covers on peut noter Ain't I'm A Dog et Bop-A-Lena des versions plus sage des rockabilly déjantés 1950's de Ronnie Self, School Of Rock 'n' Roll version également plus calme du white rock de Gene Summers et Warm Love des Burnette Brothers,
Un album bien joué plein de compositions originales, mais au style peut être trop appliqué et manquant un peu de folie.
Alphabets - Cover girl
.
The Alphabets - Warm love
.
The Alphabets - Bowl You Over
.