17 juin 2010
4
17
/

06
/

juin
/

2010
00:15
The Tennessee Cats est un trés bo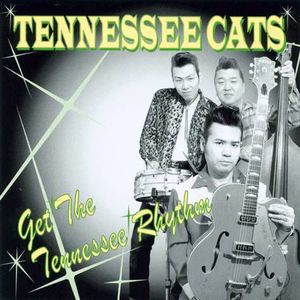 n trio de rockabilly Japnais composé de Itchie Sugihara Chant et guitare, de Keisuke "Boo" Takag à la batterie et Tetz Matsubara à la Contrebasse.
Un son à la fois moderne et authentique qui a su également s'imprégner du rockabilly teddy boys, ils composent des titres de rockabilly original tout en restant rockabilly et son également performant dans le domaine des covers.
En 2007 ils enregistrent l'album cd Get the tennessee rhythm sur Thousands records (1000CD-021) est absolument parfait dansant avec aucune longueur de la pêche et de la dynamite pure. On n'y trouve les compositions Headin' for a tran, Big Mouth john, Fire Ball NO.5, Friday night girl et Rockhouse rock , au niveau des adaptations ils reprennent Wash mashine boogie (Bill browning & the Echo Valley Boys), Ubangui Stomp ( Warren Smith), Folsom Prison Blues (Johnny Cash), My baby Left me (Elvis Presley / Arthur Cruddup), Tennessee Border (Jimmy Work) Lonesome tear in my eyes (Johnny Burnette). Do what i do (Slim Rhodes) et Viva! Las Vegas (Elvis Presley).
10
HEADIN' FOR THE TRAIN
at "Boppin'Jump
FIREBALL No.5
at "Boppin'Jumpin' Vol33" in KOBE
'10.04.10
OH! LONESOME ME
at "THE WORLD 6th" in ANJO Dec 27 2009
LAY YOUR HANDS OFF
at "THE WORLD 6th" in ANJO Dec
27 2009
V
IVA LAS VEGAS
at "Vive le Rock Lesson5" in Miyazaki July 12 2009