23 décembre 2009
3
23
/

12
/

décembre
/

2009
22:20
En Juillet 1999 est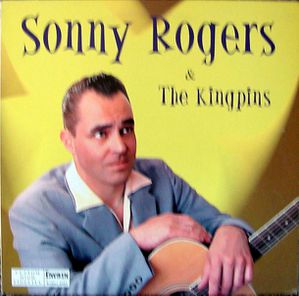 enregistré un trés bon 25 cm (qui sortira aussi en format CD abec + de titres) sur Enviken records, il s'agit de 10 titres de purs rockabilly authentique et bien nerveux comme il faut par Sonny Rogers & The Kingpins (Enviken Enrec 3301) contenant que du bon.
Le groupe est formé de Sonny Rogers chant et guitare rythmique, Fredrik rosén à la guitare solo, Ulf Torstensson à la contrebasse et Mattias Erikson à la batterie. Nous trouvons sur cet album les titres Rockin' rythm, Breackin hearts, Get out of my car, black smoke & blue tear, High geared mama, Lizzie Lou, Gotta rockit, Look who's crying now, High speed pursuit et Alone with broken heart. La maitrise de chant rockabilly de Sonny est superbe tout comme le jeu de guitare subtile de Fredrik vintage et cristalin à souhait, le 25 cm nous fait écouter ses 10 titres de rockabilly bop et country rocking puristes avec une facilité déconcertante qui nous fait regreter qu'il n'y ai que 10 titres.
Sonny Rogers était antèrieurement membre des Tupelo Wildcats qui ont enregistré un Ep sur Tail records.