17 janvier 2010
7
17
/

01
/

janvier
/

2010
12:46
Skinny Jim & The Wildcats est un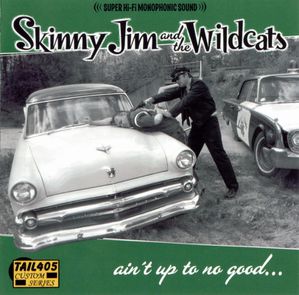 quatuor de rockabilly authentique suédois. Au départ le groupe s'apellent The Tomcats et sortent un simple. En 1996 ils changent pour Skinny Jim and the Wildcats.
Le groupe se compose de Magnus Olson (chant et guitare rythmique), Henrik Andersson (Guitare solo), Thomas Andersson (Contrebasse) et Stephan Jonasson (Batterie et piano)
On peut noter leurs participation à l'enregistrement d'un Ep de Orville Nash au studio de Joe Allen's. En 1997 ils réalisent leur premier ep sous leur nom contenant 4 covers. Ensuite ils enregistrent 4 composition de Jan Stevenson (alias Wildfire Willie) sur le 25 cm Rough tough rockabilly Volume 3 (voir l'article du blog sur ces compilations)
Skinny Jim & the wildcats font ensuite une tournée dans toute la Suède mais aussi au Danemark durant leurs prestations l'influence de Johnny Burnette & Rock n'roll trio est de plus en plus sensible.
Skinny Jim & The Wildcats have been playing all around Sweden, the only gigs abroad so far have been in Denmark.
Ils enregistrent sur Tail leur premier album sur Tail Hot Rod Machine , le titre Hot rod machine est une composition de Magnus Olson, mais comme je ne possède pas cet album je ne le détaillerai pas mais il s'agit de rockabilly authentique contenant des composition et ou l'on sent l'influence de Jack Baymoore.
Je possède par contre leur album Ain't up to no good... de 2005 enregistré sur Tail records (Tail 405 custom series) c'est Johannes Nikolausson qui tient la contrebass, il contient 15 titres de Rockabilly et rock n'roll authentique rapides et médium. Ici même sui le son du groupe est toujours reconnaissable ils n'hésitent pas à rajouter des vocaux sur certains titres comme sur Red fat cat par exemple. De nombreux titres sont de trés bonnes compositions Rockabilly de Olsson comme Gonna rock gonna roll, Fooled by a woman, Tale telling Emilia (étonnant hillbilly bop avec des sonorités mexicaines), Gonna bop it (rockabilly rapide et sauvage), My hearts for you (rockabilly rapide), Recording Sam (White rock médium), Blue so blue (Rockabilly médium dans le style de Rockin' around with Olee vee de Buddy Holly), The Barber in our town et Ain't up to ne good, Phil Trigwell autre grande figure du rockabilly authentique signe deux titres: The wrong girl et The next one won't be me (Rock n' roll rappelant King Creole d'Elvis Presley mais en plus rockabilly), et Red Fat cat de E. Ölstlund , au niveau cover nous trouvons deux reprises de titres peu connus des frères Burnette You gotta get ready et Rockin' the town et une reprise de Bill Browning Love left over.
Cet album est en conclusion une merveille pour tout amateur de rockabilly rapide.
Skinny Jim & The Wildcats-Gonna Rock Gonna Roll
Skinny Jim and The Wildcats - Gonna Bop It
Skinny Jim And The Wildcats - Tale Telling Emilia

Skinny Jim & The Wildcats-Gonna Rock'n'roll