23 novembre 2009
1
23
/

11
/

novembre
/

2009
21:11
L'énorme succés du Party Doll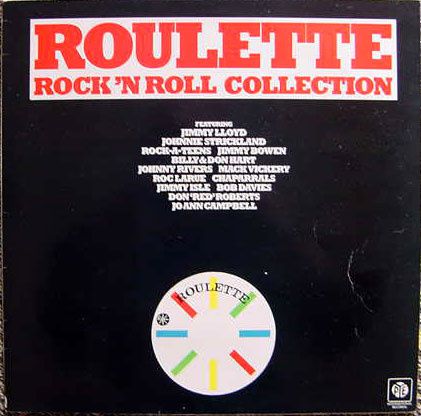 de Buddy Knox and the rhythm orchids en 1957 sera le début du label Roulette records qui fut créé par Phil Kahl et Morris Levy fin 1956. Les autres vedettes du label seront Jimmy Bowen (membre des rhythm Orchids), Les Rock-a-Teens et la chanteuse Jon Ann Campbell.
Le lp PYE Roulette Rock n' roll collection (nspl 28245) compile quelques une des perles rock n'roll du label.
La compilation propose en toute logique des titres de 1957 (première année de production du label) comme Where the rio de rosa flows de Jimmy Lloyd (Roulette 7001) ce dernier était auparavant un chanteur country qui sur Roulette records enregistrent quelques fantastiques faces de Rock n'roll bien trempées comme de 1958 You're gone baby (Roulette 4062) et Rocket in my pocket (Roulette 4062) présent aussi sur le lp. Nous trouvons également de 1957 My baby's gone (Roulette 4127) par Jimmy Bowen qui est un medium rock typique de son style, Never anymore de Bob Davies (leader d'une formation doo wop) enregistré sur Rama 224 (une filiale de Roulette) qui lui permet de faire une tournée nationale d'Alan Freed au côté de Buddy Knox et Buddy Holly et le psychotic rock Only One composé et interpretté par Don Red Roberts (Rama 230) un rocker originaire de Miami qui publie son titre dans un premier temps pour Chart records, ce titre sera repris par Eddie Fontaine, les Diamonds et David Houston.
De 1958 nous trouvons 2 trés bons rocks de Johnny Rivers un rocker italo américain (qui deviendra une immense vedette en 1964 particulièrement grâce à son lp imperial Live at the wiskie a go go) Long long walk (Gone 5069) et Baby come back (Gone 5026), Goin' back to St Louis (Gone 5085) de Mack Vickery un rocker originaire de l'Alabama qui était un compositeur reconnu de la country and western (il écrivit pour Faron Young, Jerry Lee Lewis, Lefty Frizzell et Hank Williams) le single de Johnnie Strickeland (Roulette 4119) She's mine/ You've got what it takes enregistré à Nashville avec les guitaristes légendaires Hank Garland et Grady Martin, Goin' wild un solide rock de Jimmy Isle (Roulette 4065) et l'extraordinaire rock n'roll féminin You're driving me mad par Jo Ann Campbell (Gone 5021).
On peut aussi noter 4 titres du groupe de white rock The Rock-a-teens dont leur gros tube national Woo hoo (Roulette 4192), mais aussi Doggone it baby (Roulette 4127), Janis will rock (Roulette lp 25109 ) titre en hommage à Janis Martin et Lotta boppin' (Roulette lp 25109), de 1959 comme Rock a bop a lina de Billy et Don Hart (Roulette 4133), le titre le plus récent est le Leapin' guitar des Chaparrals de 1960 dans lequel on peut apprécier le talent du guitariste Charlie O'Bannon (qui accompagnera Tooter Boatman).
The Rock-a-teens - Janis will rock
You're Driving Me Mad - Jo Ann Campbell