28 janvier 2010
4
28
/

01
/

janvier
/

2010
18:54
Le lp
Rockin' again at the 2 "i"'s
(ace records CHA 77) rend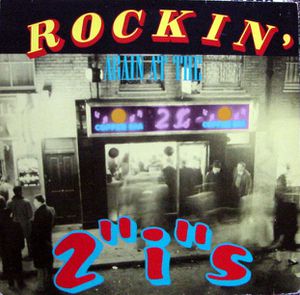 hommage au 2 "i" s Club dont l'histoire est inséparable de celle du rock n'roll anglais des années 1950. C'est ce club qui permet à des artistes comme Tommy Steele, Terry Dene, Vince Taylor, Wee Willie Harris ou Tony Crombie de faire leurs premières armes.
Ce lp compile quelques un des titres de Rock n'roll anglais des fifties les plus exitant nous trouvons deux morceaux de Vince Taylor and the Playboys
Brand new Cadillac
(un monument de l'histoire du rock n'roll) et
Right behind you baby
(une cover du rockabilly Sun de Ray Smith), deux rock n'roll féminin de Janice Peters
A girl likes
et
This little girl's gone rockin'
(le chef d'oeuvre rock n'roll de Ruth Brown), du jump rock avec Tony Cromby et
Let's you and i rock
et Bertice Reading avec
Rock, baby, rock
, du rockabilly avec
Ubangui stomp
(une cover du rockabilly Sun de Warren Smith) par Dean Shannon,
Baby Sittin'
par Johnny Angelo & the Tuxedos et Teen street par Toni Eden, et du Rock n'roll avec
Slippin' and sliddin'
(une cover originale du titre de Little Richard) par Dickie Pride,
Long Stringy baby
opar Johnny Crawford,
Hey miss Fannie
(cover rock n'roll du titre doo wop des Clovers) par Dean Webb,
If you need me
par Dave Sampson & the Hunters et les psychotique
So what
de Johnny Kidd & the Pirates (dont le son annonce les sixties).
A la fois des styles différents sur ces 14 titres, mais également un son particulier caractéristiques du Rock n'roll anglais des fifties qui met en évidence sa singularité par rapport à son cousin américain.
A Girl Likes - Janice Peters
Bertice Reading ( rock baby rock )
Dickie Pride - Slippin' 'n' Slidin'
Vince Taylor-Right Behind You Baby

Tony Crombie & His Rockets Teach You To Rock