14 août 2011
7
14
/

08
/

août
/

2011
21:11
Rocket to Memphis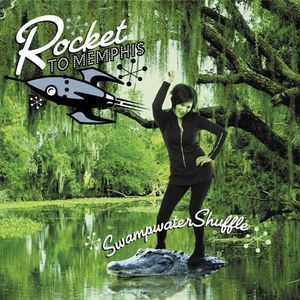 est un groupe néo rockabilly garage Australienne qui s'est formé en 2006 à Perth (Australie) et formé de deux filles Betty Bombshell au chant et Voodoo Viv à la basse et de deux hommes Razor Jack Memphis à la guitare et Shotgun Pete à la batterie. Leurs influences musicales viennent du rock sauvage des 1950's et 1960's avec des artistes comme Link Wray, Screamin' Jay Hawkins et The Sonics, d'autres des artistes underground des 1970's et 1980's comme Tom Waits et The Cramps et enfin de formations plus contemporaines comme Southern Culture on the Skids. Au niveau des albums on peut citer des 2000's Swampwater Shuffle en 2007 et Hip Shakin Voodoo en 2009.
Voyons de plus prés l'album Swapwater Shuffle, il commence par Catwoman un néo rockabilly garage eu rythme lent trés influencé par la musique des films de serie B, What Kinda Man est une ballade rock 'n' roll au son moderne assez réussie, Devil's Ride est un néo rockabilly rapide assez rapide, The Jazz Butcher est une ballade jazzy assaisonnée de riffs de guitare rock, Voodoo Twist est un rock garage début sixties, Swampwater Shuffle est un titre qui comme trés lentement dans une ambiance d'épouvante et qui s'accélère par la suite en néo rockabilly moderne, The Way I Walk est une cover assez réussi du classique de Jack Scott mais dont on sent nétement l'influence de la cover faite par The Cramps à leur début.
Que dire à l'issue de l'écoute de cet album,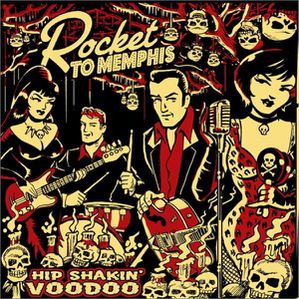 c'est assez déroutant car assez atypique, mais en fait cela passe plutôt bien, mais à déconseillé à tout puriste.
Le second album du groupe Hip Shakin Voodoo commence par Bad Girl un medium rock garage mais avec une construction et une mélodie assez originale, She's My Witch est un titre trés lent et assez moderne dont la mélodie rappelle certaines ballade de jazz féminin des fifties, No Kissin' At The Hop est un sympathique néo rockabilly, Draggin' Dave est un rock garage à l'ambiance de film de série B, Song Of The Swamp est un titre qui pêche à mon goût par son manque de véritable mélodie, Gator Stomp est un titre original avec de l'accordéon qui lui donne un petit air de Zideco mais qui comme le précédent manque franchement de mélodie, Shake Your Hips est un néo rockabilly moderne plus interressant, Crazy Eyes est un jazz medium teinté de rockabilly, Martians' Ball est une ballade encore sans vraiment de mélodies qui ne m'a pas du tout accroché, Sister est encore un titre au rythme lent qui pêche toujours au niveau mélodique, Wolfman est plus rythmé mais qui m'a aussi un peu ennuyé, Little Red Rocket est déjas plus agréables avec un effort mélodique et I Got Cramps est encore un titres complètement décalé avec des vocaux proche des Cramps.
Autant leur premier album ne m'a pas dérangé que celui ci est beaucoup trop déjanté pour mes petites oreilles et certains titres m'ont franchement ennuyé au point d'attendre impatiemment leur fin!! Que dire de plus je pense sincéremment que leur style trés personnel doit séduire certains auditeurs mais cela n'a pas été mon cas.
Rocket to Memphis - Little Red Rocket
Rocket to Memphis - Shake Your Hips
Rocket to Memphis - No Kissin' At The Hop