7 janvier 2010
4
07
/

01
/

janvier
/

2010
19:30
Le lp Rockabilly dynamite Astan (NR. 201026) compile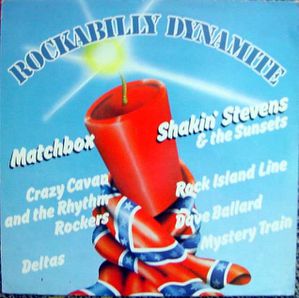 quelques faces incontournable du Rockabilly britanique de la fin des 1970's et début des 1980's avec deux titres pour chaque formation. Nous trouvons de l'incontournable Shakin' Stevens and the Sunsets le "Elvis Presley Gallois" la reprise du Sweet little sixteen de Chuck Berry et le trés bon Rock n'roll Girl in red une composition de Stevens et de l'incontournable manager du Rockabilly Anglais Paul Barrett.
De Matchbox nous trouvons une reprise du Cruisin' de Gene Vincent & the Blue caps (qui est l'idole du chanteur du groupe Graham Fenton) et While i'm away composé par le guitariste du groupe Steve Bloomfield.
Des fantastiques Crazy Cavan and the Rhythm Rockers nous trouvons deux compositions rockabilly bigrement efficaces dont ils ont le secret : I'll be there (de Cavan) et Big black Cadillac (du guitariste du groupe Lyndon Needs).
Des Rock Island Line (formation méconnue chez nous) mais 100 % Teddy boys nous trouvons une reprise du rockabilly de Don Woody Barkin' up a wrong tree et Ain't got money composé par le guitariste de l'époque Tim Green, il sagit d'un rockabilly médium de style british rockabilly avec une mélodie originale et trés réussie.
Dave Ballard un chanteur de Rockabilly que je ne connais que par ce lp interprette le génial Hey you guys (une magnifique composition de rock n'roll, un vrais classique malheureusement peu connu), et une reprise du classique rockabilly Teenage Boogie de Webb Pierce.
Mystery train est un trio de Rockabilly Teddy boys que je ne connais que grâce à cette compilation qui interprette Go away hound dog (un rockabilly 1950's de Cliff Johnson pour Columbia) et Mystery train boogie un rockabilly british 1970's typique composé par Tim Green qui est également producteur du groupe.
Les Deltas qui est l'une des formations précurseurs du Néo rockabilly, dont la popularité atteindra son apogée à la fin des 1980's se faisant une réputation non seumlemet auprés du public rockabilly mais également psychobilly, interprettent 2 deleurs classiques bien nerveux issus de leur indispensable premier album Heart attack et Spellbound.