9 janvier 2010
6
09
/

01
/

janvier
/

2010
23:52
Rock' n roll Story (Mr Pickwick MPD 017 ) compile des titres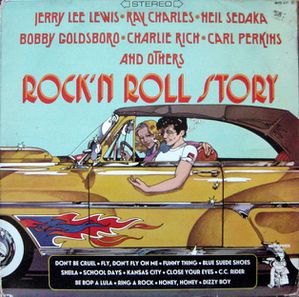 de Rock n'roll blancs et noir et de Teen rock de la fin des années 1950 et du début des années 1960.
Sur la pochette on trouve une illustration représentant un Greaser au volant de sa voiture custom flamée avec sa Pin up à ses côtés.
Jerry Lee Lewis est présent avec deux faces de sa pèriode Mercury Don't be cruel (cover personelle du hit 1950's d'Elvis Presley) et Be bop a lula (cover du classique de Gene Vincent), Charlie Rich chante deux rocks noirs School days (de Chuck Berry) et C C Rider (de Chuck Willys), Neil Sedaka chante deux bonnes compositions rocks rapides Fly don't fly to me et surtout Ring a rock, Carl Perkins est aussi présent avec son classique Blue Suede Shoes dans une version sixties, Lou Christy chante 2 teen rocks Close your eyes et Funny thing, Tommy Roe avec son gros tube Sheila et Bobby Goldsboro avec Dizzy boy, au nieau du Black rock n'roll nous trouvons "The genius" Ray Charles avec Honey honey et Wibert Harrison avec Kansas city.





jerry lee lewis - don't be cruel
Lou Christie And The Classics - Close Your Eyes

Ray Charles-Honey, Honey