18 décembre 2009
5
18
/

12
/

décembre
/

2009
21:14
De Capitol records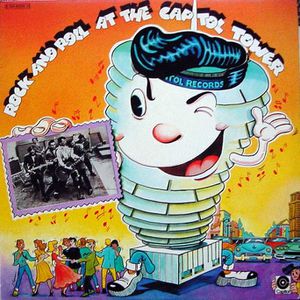 on connait surtout Gene Vincent, Wanda Jackson, Esquerita et Louis Prima, mais en réalité le label réalisa un grand nombre de disques de Rock n'roll moins connu en France, mais qui aux états unis se sont classé dans les charts. La série Rock n'roll at the capitol Tower qui se compose de 3 double lp (soit 6 33 tours) nous fait un tour d'horizons d'une qualité exemplaire des morceaux de Rock n'roll sortis sur le label à la tour en forme de colonnes de singles géants.
Le Rock n'roll at the Capitol Tower Vol 1 ( 2 C 184-81970/71) avec une pochette dessinée représentant la tour capitol comme un personnage de Cartoons, commence par les faces les plus exitantes de la teenage idol Tommy Sands, en effet ici aucun slow ou morceau guimauve mais que du pur rock n'roll blanc particulièrement exitant de Man like wow de 1957 aux géniaux The worry kind, Blue ribbon baby et Hey Miss Fannie de 1958, Is it ever gonna happen et It ain't getting rid of you de 1959 et une reprise sympathique du Maybellene de Chuck Berry, cela est suivi d'un formidable rock de Johnny Burnette Sweet Suzie de 1964 (peu de temps avant sa disparition), la seconde face commence par les faces rock du chanteur de country Jerry Reed et ici aussi c'est particulièrement excellent Mister whiz, When i found youn I am stuck et I have had enough de 1956, Bessie baby et Heart appeal de 1958, le premier disque se clot sur le single des Rio rockers de 1958 avec Mexicali baby et Mexican rock n'roll. Le second lp commence par trois titres de Gene Vincent and the Blue Caps de 1958, Teenage partner 58, Look what you gone and done to me et Important words est il besoin de préciser qu'il s'agit de véritables perles?, la face se termine par des faces rock de Wanda Jackson de 1956 Hot dog! that made him mad, de 1956 I wanna waltz, de 1960 Riot in the cell block number 9 (reprise décoiffante des Coasters) et de 1961 une reprise explosive du Who shot sam de George Jones on peut peut être reproché à cette face de compiler des titres qui sont trouvables sur des disques des artistes et non de véritables raretés.
La seconde face commence par du moins connus et pourtant réellement exeptionnel, nous trouvons 4 rockabillies de 1956 de Skeet Mac Donald You ought to see your grandma rock , heart breaking mama (2 titres dans lesquels Eddie Cochran tient la guitare) You better not go et don't push me too far, ensuite deux médiums rocks de 1961 de Jack Scott Strange desire et One of these days et nous terminons par deux killers rockabilly My gal gertie de Dub Dickerson de 1954 et Go ahead on de Jimmy Heap de 1955.
Une compilation d'une grande qualité dans laquelle Tommy Sands et Skeet Mac Donald apparaissent comme de véritables génies méconnu du rock n'roll.

Le Rock n'Roll at the Capitol Tower Vol 2 (2 C150-85029/30) avec en couverture la photo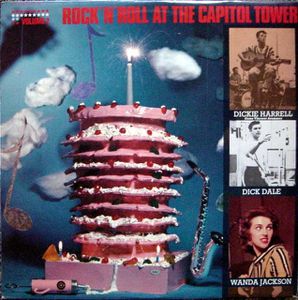 d'un gateau rose représentant la légendaire tour capitol commence par des faces du Rockeur surfeur Dick Dale de 1963 avec Night rider, Kansas city, Wild ideas, Green back dollar, Ghost rider in the sky et Deltone rock que du trés bon mais pas de l'exeptionnel, les deux faces médium typique de la pèriode Capitol de Jack Scott avec son gros tube Grizzily bear et Me o, My O de 1962 sont plus interressante à mon goût, en face B Black Cat de 1960 de Tommy Collins et Rockin' in the congo de Hank Tompson de 1956 sont 2 rockabilly exeptionnels, nous trouvons aussi 2 bons rock de Bob Luman de 1958 Try me et I know my baby cares, mais par leur originalité j'ai tendance à préférer de 1958 My baby loves to rock de Del Reeves et Last night at a party de Faron Young (une grosse vedette de la country pas vraiment énervé qui ici nous fait une belle démonstration de rock n'roll), enfin les deux faces de 1957 de Sonny James Uh uh mm... et A mighty lovable man sont également trés jouissives.
Le second lp commence par 3 faces connus de Wanda Jackson Brown eyed a handsome man (reprise de Chuck Berry) et My baby left me (reprise dans le style de version d'Elvis du Blues d'Arthur Cruddup)de 1961, suivi de I gotta know de 1956 3 petit chef d'oeuvre de rock n'roll féminin, mais malheureusement relativemnt connus, heureusement Step by step tout aussi bon est un inédit!!!, nous trouvons un rock "préhistorique" de 1947 de Merle Travis Merles boogie, et au sujet préhistorique justement nous trouvons aussi l'amusant Brontosorus stomp des Piltdown men, de 1961 le Rock a little faster mérite le détour en effet son interprette est Dickie Harrell le batteur des Blue Caps de Gene Vincent comme l'inédit de Jerry Reed You make it, they take it de 1958,
La dernière face nous présente d'autres faces rock de Skeet Mc Donald Fingertips de 1957, la splendide ballade Don't let the star get in your eyes de 1952 et Blues in my mind, You're there, Tomorrow never comes et for worth jail qui sont quattre solides Rock de 1958, enfin nous trouvons James Burton (guitariste des faces imperial de Ricky Nelson) avec Corn Pickin' et Moonshine par Ralph Mooney datant de 1967 qui sont sympathiques mais rien d'extraordinaire.

Le Rock n'roll at the Capitol Tower Vol 3 (2C 150 85345/6) est à mon avis le meilleur de la série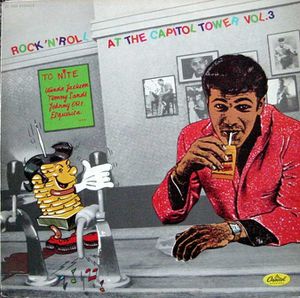 , sur la première face nous trouvons deux titres du Little Richard Capitol Esquerita avec les explosifs Hole in my heart et She left me de 1959, Chantilly lace (le tube de Big Bopper) par Sam Butera l'alter ego de Louis Prima de 1961, I ain't never (un des classiques de Webb Pierce), Don't be cruel (D'Elvis chez RCA) et Sugaree (de Marty Robbins) par les Jordanaires (le groupe vocal légendaire qui accompagne Elvis Presley sur ses faces RCA des 1950's) datant de 1962 et Johnny Otis avec des jump rock n'roll Can't you hear me et surtout Hum ding a ling de 1957.
La seconde face débute par deux nouveaux chef d'oeuvre rock de Tommy Sands Bigger than Texas et Oop shoop de 1958 suivi d'une reprise de la même année du Tweedlee dee de Lavern Baker, suivi par Svengali et Everybody's talkin' deux Rock blanc de Bob Luman, Cool drool et Baby i love you deux extraordinaires rocks du chanteur de country Del Reeves et le rockabilly de 1956 The cat came back de Sonny James.
Le second lp nous présente la trés bonne mais trop connue cover de Wanda Jackson du Tweedlee dee de Lavern Baker (encore) datant de 1963 , mais nous trouvons aussi deux titres exeptionnels moins connus Funnel of love de 1961 (qui n'est pas sans rappeller Nancy Sinatra mais en plus rock) et The gun don't care de 1966 dans la même veine, les titres suivant sont absoluments incontournables Rockin' bagdad de 1956, The great empty room de 1957 de Jerry Reed, Wang dang dox de Ferlin Husky de 1957, Down in the corner of love de Bobby Bare (encore une star de la country qui se distingue en enregistrant un formidable rock) de 1956 et All the monkey in the zoo de Tommy Collins de 1957.
La dernière face coommence par trois doo wop rock superbes Sack dress et Rockin' at the drivin' de 1958 par les Beavers et Rock a bay rock par les Raindrops de 1959,suivi de Dutch rock n'roll de Gene Nash un amusant et original rock blanc, une version étonnante du Maybe baby de Buddy Holly par les Derringers datant de 1963, Black denim trousers and motorcycle boots des Cheers un énorme tube qui n'est autre que la version originale de l'homme à la moto d'Edith Piaf, Bop cat bop de Simon Crum de 1956 un rockabilly chanté par ferlin Husky sous un pseudo et enfin Parade rock un rock blanc interpretté par Bob Summers en 1958.


Tommy Sands THE WORRYIN' KIND
Funnel Of Love. Wanda Jackson
Sonny James - Uh uh mm
Black Denim Trousers And Motorcycle Boots The Cheers

Tommy Sands - Blue Ribbon Baby