8 décembre 2009
2
08
/

12
/

décembre
/

2009
21:35
Aprés les Imperial rockabillies, voici u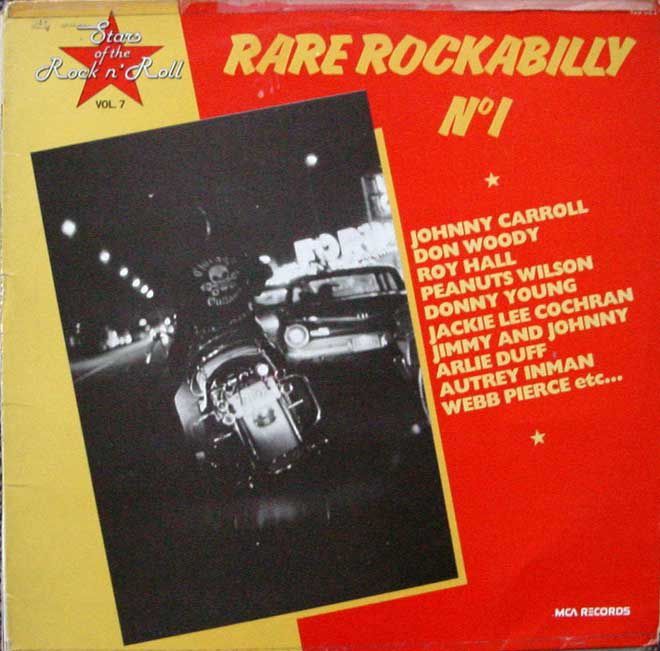 ne autre série de compilations légendaires et absolument incontournables de rockabilly des fifties. Derrière ce nom se cache quelques un des plus beaux joyaux de purs rockabilly sauvages issus du catalogue du label Decca et de ses filiales .
Le Rare Rockabilly N°1 MCA records orné d'une superbe photo de Danny Lyon (qui fit un reportage photo sur un gang de motards durant le début des sixties dont est tiré cette photo) contient 4 titres ultra violent et sauvage de Johnny Carroll Hot Rock, Rock n'roll ruby, Wild wild women et tryin'to get to you, 4 titres absolument classiques plein d'humour de Don Woody Bird Dog (dans lequel il siffle durant le refrain son chien), Barking up a wrong tree (dans lequel il aboie durant le refrain) et le minimal et fabuleux médium Make like a rock n'roll et Morse Code, 4 titres d'un pionnier du genre Roy Hall faisant des titres rockabilly aux rythmes boogies woogie comme Three alley cats, Diggin' the boogie et Offbeat boogie (deux véritables chef d'oeuvres) et sa reprise (trés différentes de celles de Jerry Lee lewis) du rhythm and blues Whole lotta shakin' goin' on. les autres titres sont tout aussi bon Cast iron arm par Peanuts Wilson produit par Norman Petty, Be bop baby d'Autrey Inman, Sweet love on my mind de Jimmy and Johnny (un classique incontournable du genre), Alligator come accross de Arlie Duff, Crazy Baby de Gene Maltais (qui sera une figure marquante du white rock sauvage), Ruby Pearl un médium suffoquant de Jackie Lee Cochran ou il est accompagné par Jimmy Pruet au piano et Merle Travis à la guitare, Teenage boogie le chef d'oeuvre rockabbilly du hillbilly et country singer Webb Pierce et Shaking the blues par Donny Young.

Le Rare Rockabilly N°2 avec une photo du film The wild One (L'équipée sauvage)nous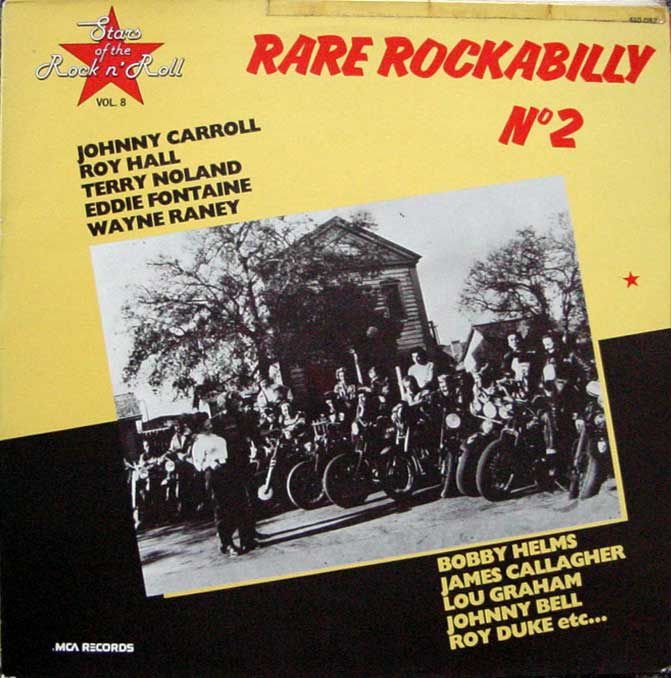 permet d'entendre un autre titre génial de Jackie Lee Cochran Mama don't think i know, 2 titres de Roy Hall tout aussi réussi All By myself (reprise d'un titre de Fats Domino qui sera repris différement mais aussi en Rockabilly par le Johnny Burnette Rock n'roll trio) et See your later alligator qui devient ici un véritable rockabilly trés différent de l'original de Bobby Charles (rhythm and blues blanc) et de la célèbre version de Bill Haley & ses Comets plutot Jump, 2 autres rockabillys ultra violent sde Johnny Carroll, Crazy crazy lovin' et Corrine corrina (qui devient un merveilleux concentré de folie qui n'a plus rien n'a voir avec le titre original de Big Joe Turner), deux des meilleurs titres de Terry Noland Ten little women et Hypnotised (une véritable perle), et une suite de titres tout aussi exeptionnels Cool it baby d'Eddie Fontaine , Shake baby shake par Wayne Rayney (qui habituellement fait du Folk et country blues à l'harmonica), Here comes the night par Billy Guitar, Behave, be quiet or be gone par Roy Duke (assez country boogie), Flip flop and fly par Johnny Bell (qui fait une version Rockabilly médium trés réussie du classique de Big Joe Turner), Rock it on down to my house de Justin tubb, le chef d'oeuvre absolue de Bobby Helms Tennessee rock n'roll (artiste qui deviendra une méga vedette mondial avec son trés beau slow My special angel), Crazy Chicken par James Gallager, Is that all the ball, Mr Hall par Billy Lee Riley (qui est un des grand noms du rockabilly sauvage de Sun Records), She wanna rock de Arnie Derksen (à la mélodie parfaite et entrainante), Don't go baby de Al cocker & the Cocker family et Wee willie Brown de Lou Graham (à mi chemin du rockabilly et du rhythm and blues).

Le Rare Rockabilly n°3 avec une photo de l'agence Magnum montranbt des Bikers noirs probablement au début des 1960's nous permet d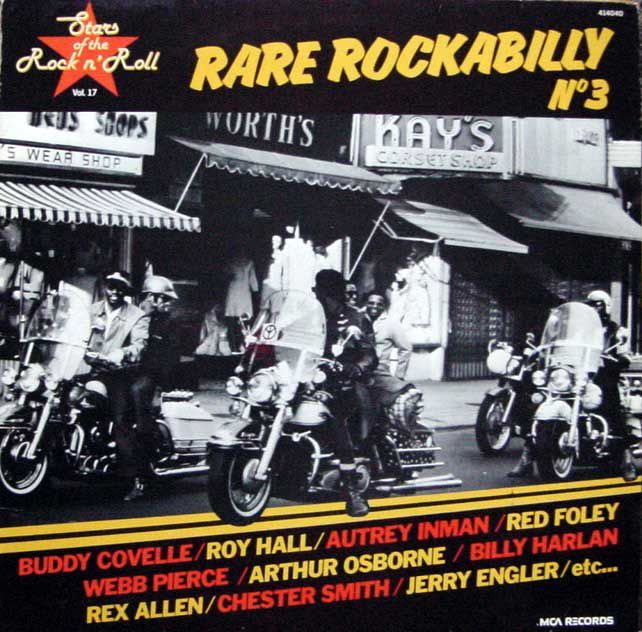 e connaitre deux nouveaux titres tout aussi excellent de Roy Hall Don't stop know et Move on, et encore une suite de fantastiques titres rapides nerveux et sauvages de rockabilly made in fifties comme Lorraine de Buddy Covelle (1959), (It would be) A doggone lie d'Autrey Imman de 1956, Everybody's tryin' to be my baby par les York Brothers (version trés personnelles du classique de Carl Perkins), Moons Rock de Moon Mullican (énorme vedette du du hillbilly boogie qui sait aussi faire de solides rock, 1958), Juke joint johnny par Red Sovine (autre star du country & western qui nous fait ici un trés bon rockabilly, 1956), You gotta move par Chester Smith (1958), Teenage love is misery par Jerry Kennedy (1957) guitariste de Johnny Horton, Way out there de Chuck and Bill (1957), I wanna bop de Billy Harlan (un moment d'anthologie du rockabilly rapide et mélodique, 1958), Cheat on me baby par les Rockin' saints (groupe comprenant des membres des Royal Teens 1960), Knock knock rattle de Rex Allen (encore un chef d'oeuvre du genre, 1958) , Crazy little guitar man de Red Foley (encore une vedette du hillbilly boogie qui s'essaie avec succés au rock n'roll, 1958), Hey babe let's go down town de Joe Therien Jnr and his rockets (1957), Pan American Boogie par Lonnie Glosson (1950) sorte de Rockabilly préhistorique que Ray Campi ressucitera avec talent durant les 1970's, Baby's gone de Vernon Claus (1956), Hey ruby d'Arthur Osborne (1958) (une étonante version rockabilly du titre Hey Bo Diddley, 1958) et Schoolhouse rock par Billy Harlan (1958) deuxième perle de l'artiste présentes sur le lp.

Le Rare rockabilly Volume 4 qui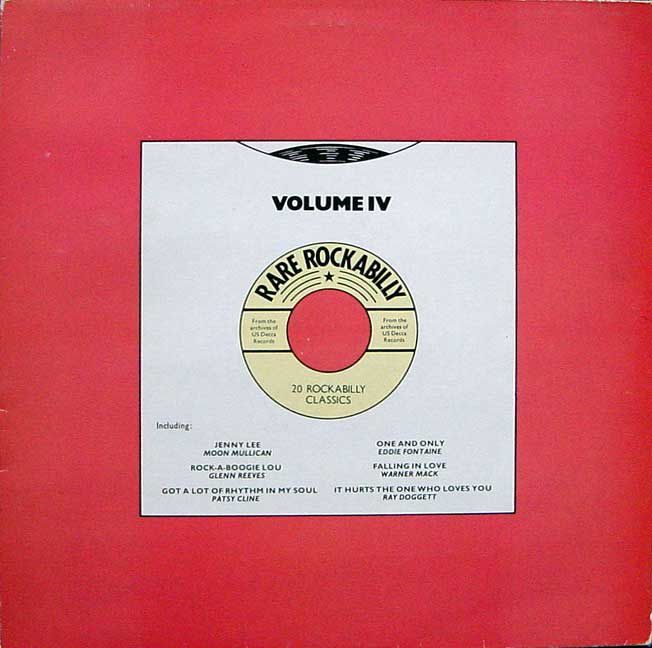 malheureusement n'a pas une photo vintage sur le recto de la pochette est également excellent mais à mon goût un peu inférieur aux trois volumes précédents, nous trouvons trois rockabilly préhistoriques, You played on my piano de Hardrock Gunter (1952), California blues de Webb Pierce (1951), et All nite boogie par Tommy Sosebee (1952), une trés étonante version rockabilly du Doo wop de Jan and Dean Jenny Lee par Moon Mullican(1958), le sauvage Rock One and Lonely d'Eddie Fontaine (1957), le rockabilly féminin Got a lot of rhythm in my soul (1959) de la légende de chanteuse légendaire de country and western Patsy Cline titre qui est pour moi l'un des meilleurs titres du disque, 2 titres splendides de Glenn Reeves Rock-a-boogie Lou et Rock Around the World de Glenn Reeves (1958), 2 rockabilly tardif de 1961 Baby don't leave me par les Chavis Brothers et Uncle John's bongos par Johnny and Jack, le médium Tennesse toddy de Billy Gray and his Western Okies (1955), de 1957 Come back to me et Rockabilly Boogie par Joe Therrien JR and his Rockets, Touch of loving de Bobby Sykes, et surtout le trés bon It hurts the one who loves you de Ray Doggett, de 1958 Be my bride de Charlie Phillips et Falling in love de Warner Mack et de 1959 You've got me par Wayne Walker et Show me how de Veline Hackett.


Don Woody - Make Like A Rock And Roll
.
Autrey Inman - (It would be) A doggone lie
.
Bobby Helms - Tennessee Rock 'n' roll
Billy Harlan - I Wanna Bop
Don Woody - Barking Up The Wrong Tree
Don woody - Bird Dog
Peanuts Wilson - Cast Iron Arm
Jackie Lee Cochran - Mama Don't You Think I Know //Decca 45
Buddy Covelle - Lorraine
Johnny Carroll (rock n roll ruby)
Johnny Carroll-Hot Rock
Roy Hall - Whole Lotta Shakin´ Goin´ On
Roy Hall - Three Alley Cats
Roy Hall (diggin the boogie)
Arnie Derksen - She Wanna Rock
Terry Noland - Ten Little Women
Gene Maltais - Crazy Baby
Jackie Lee Cochran - Ruby Pearl
James Gallagher - Crazy Chicken
Glenn Reeves - Rock Around The World
Rex Allen - Knock Knock Rattle
Billy Harlan - Schoolhouse Rock
Billy Gray - Tennessee Toddy

PATSY CLINE - Got a Lot of Rhythm in My Soul