23 décembre 2009
3
23
/

12
/

décembre
/

2009
00:11
Pee Wee and the Specials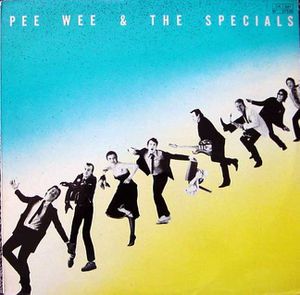 est une formation de doo wop originaire des environs de Castricum (Pays-Bas) composé de 8 membres qui ont existé de 1978 à 1980. Ils commence comme musiciens de studio d'un programme de radio et pendant un an ils apparaissent régulièrement sur VPRO (radio et télévision néerlandaise) particulièrement sur un programme du vendredi soir De suite le leadeur du groupe est le chanteur Harco Wind (pseudo du célèbre auteur compositeur Wim T. Schippers qui s'est fait connaître par ses bonnes adaptation en néerlandais de succés étrangers). Le groupe devant le succés qu'ils obtiennent sur les ondes font une tournée en Hollande. Leurs succés est aussi important qu'inatendu, en Janvier 1980 ils enregistrent en studio leur premier simple I Knew From The Start (du groupe doo wop The Moonglows) b/w Mama Said (reprise du girls group the Shirelles) Rockhouse SP 8003 qui est suivi du lp 33 tours Pee Wee & the Specials (Rockhouse LP 8004 & en France distribution Carrere CA 641).
Il sagit d'un album de doo wop particulièrement réussie dans l'esprit des américains Shanana ou des anglais Showwaddywaddy ou Rocky sharpe & the Replays mais en moins commercial et plus authentique. Cette album pourait se placer entre ces groupes des 1970's et le doo wop revival authentique des 1980's et 1990's de groupe comme les Chaperrals.
Nous trouvons en plus des titres présent sur le single, des reprises de titres plus ou moins connus du doo wop comme Most of all (autre reprise des Moonglows), Walking along (The Solitaires), In the still of the night (The Five Satins), Bristol stomp (The Dovells), False alarm (Re-Vels), Lily Maebelle (the Valentines), Wedding bells (The Victorians), I've a boyfriend , Someday, juanita (Tokens), Teenage love associées à des compositions dans le style doo wop de Jakob Klaasse Truckstop cafe queen et I'm still (not over you), et le Rockabilly Love love love, il ya l'amusant Mini-rock de 20 seconde composé par Peter Warnier, et le dowwop de style début sixties Buying your love composé par Erik Mooijman.
Ils participent cette même année au Rockhouse rock n'roll festival et parrait le second simple Juanita / Truckstop Cafe Queen on peut également noter la présence des titres False Alarm et Juanita sur la compilation Go wild over Rock n'roll (LPM 8101) en 1981. Mais à la fin de l'année 1980 le groupe se séparre nous laissant un album de doo wop trés abouti.