15 novembre 2010
1
15
/

11
/

novembre
/

2010
23:38
Paul Petersen (né le 23 Septembre 1945)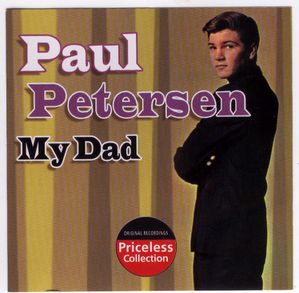 est avant tout un acteur qui joue dans un premier temps le fils de Donna Reed dans le feuilleton The Donna Reed Show, et continu sa carrière d'acteur devnant l'officier de police Matt Houston (dans la série du même nom) et joue le rôle dfe l'auteur Paul Conway dans le film Mommy's day.
Mais évidemment c'est sa carrière de chanteur qui nous interresse ici, ses titres sont souvent des ballades mélancoliques pleines de violons et de choeurs dans la plus pure tradition des teenage idole du début des sixties oubliant bien souvent ce qu'est le rock n'roll.
Mais on peut noter le bon surf rapide dans le style des Beach Boys She rides with me, la belle ballade My dad (qui sera son plus grand succés (N° 6 au Billborad), The Cheerleader un teenrock médium sympathique, You don't need money (un bon rock sixties) et She can't find her keys un amusant teenrock médium. On peut noter qu'il signera chez Motown durant les 1960's. L'ensemble des titres cité sont sur la compilation Collectable My Dad (Col-CD-9932) au côté d'autres plus insipides comme Hey there beautiful, Keep your love locked, Lollipops and roses, Happy et Girl in the summertime.
"My Dad" - Paul Petersen
Paul Petersen - She Rides With Me