27 septembre 2010
1
27
/

09
/

septembre
/

2010
12:43
Panhandle Alks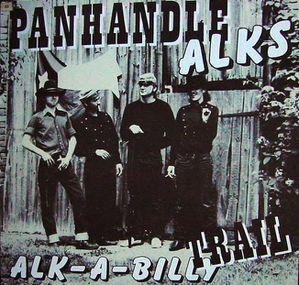 est une formation de Rockabilly Teddy Boys allemande inspiré par le son des groupes de la scène de Grande Bretagne des 1970's (comme Crazy Cavan & Rhythm Rockers, Flying Saucers ou Wild Angels) qui a la particularité de chanter en allemand.
Le groupe se forme en 1981 à Dusseldorf avec Karl-Georg "George" Benten (chant et guitare), Charly (Batterie), Ralf "Ray" (guitare) et Kai (à la guitare basse) par la suite se succederont -Toni" Kaeppler (batterie maintenant dans Colly and the Steamrollers), Chuck Shoker (Contrebasse), Schotti (batterie qui va ensuite dans les Lennerockers), René "Oppa" (guitare), Roland "Ron" Basaldella (batterie)et Klaus Ritter (Batterie).
Je possède grâce à un copain allemand le lp Alk-A-billy (LC 8875) qui est assez convainquant et devrait plaire à tout amateur de rockabilly teddy boys des 1970's, contre toute attente de ma part la langue allemande s'adapte trés bien au style, nous trouvons les titres Heut' nacht, Blue bob Tee, Big billys bourbon bar, Alk-a-billy lebt, Wach' auf meine kleine, Fieber et Bis zum bitteren ende et une cover du Dixie.