7 août 2011
7
07
/

08
/

août
/

2011
10:15
Mike Bell and the Belltones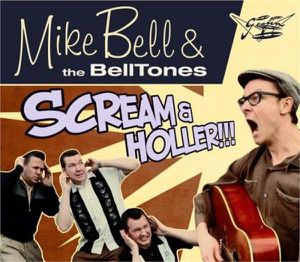 est une formation de rockabilly authentique finlandaise formé en 2008 avec Mike au chant et à la guitare rhythmique, Kali à la guitare solo, Likku à la contrebasse et Japi à la batterie.
Ils commencent à se faire remarquer lors de leurs prestations en Finlande, mais rapidement ils participent à des festivals rock 'n' roll en Espagne, Suèdes, Angleterre, Autriche, Suède et Allemagne.
En 2009, ils enregistrent un ep Moonlight rock pour Goofin records et suivi en 2010 de l'album Scream & Holler mis en boite dans le studio berlinois Ligntining recorders. On peut noter la présence de leurs titres Let's rock tonight dans le coffret Finnish rockabilly Box-set Slap that bass! et Crazy bear rock dans le coffret du 35 eme anniversaire du label Bear Family.
Revenons à l'album Scream and Holler (GRCD 6166) il débute par Let's Rock Tonight un rockabilly rapide authentique dans le style de Charlie Feathers, Scream and Holler est un white rock sauvage, Oh Yeah, I'm In Love est un splendide rock n'roll avec choeurs, Moonlight Rock est un rockabilly rapide, Let's Pretend We're Sweethearts est un western swing, She can rock est un rock bien sauavge dans le style d'Esquerita, Gonna Ride The Wild Surf est un medium rockabilly, Lord, I'm In Trouble Again est un white rock, Breakin' Hearts est un rockabilly particulièrement réussi, Jimmy's Car & Johnny's Girl est un country rockabilly medium, Rockin' On Mars est un rockabilly rapide à la bonne mélodie, Rockin' Record Hop est un medium rockabilly, The Shape Of Love est une ballade rock n'roll mélancolique dans le style de Jack Scott et There's A Party Goin' On est un rockabilly rapide.
Cet album est à mon goût une belle réussite tout est bon et certains titres de véritables petits classiques, fortement recommandé.
Mike Bell & The Belltones - Oh Yeah, I'm In Love
Mike Bell & The Belltones - She can rock
Mike Bell & The Belltones - Let's Rock Tonight
------
------