10 août 2011
3
10
/

08
/

août
/

2011
13:52
Little Victor est un musicien de blues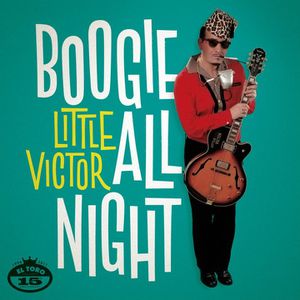 traditionnel particulièrement talentueux, il commence sa carrière en 1981 à l'age de 14 ans comme chanteur dans les Sunbeams un groupe spécialisé dans l'interprétation de titre de chez Sun records. A 16 ans il se met à l'Harmonica en étudiant le style de Jimmy Reed et Junior Parker. Il va ensuite étudier le vrais blues en jouant au côtés des bluesmen de Memphis.
Il joue entre autre auprés de légendes de Beale street comme Herman "Alabama" Alexander et Jessie Mae Hemphill, il joue ensuite avec d'autres légendes comme entre autres RL Burnside et Junior Kimbrough.
En 1994, il enregistre l'album Cuttin' Out sur le label Blue-Jay Records qui contient que des compositions originales.
En 2001 sort l'album Just rockin' the blues au son vintage identique aux enregistrements des 1940's et 1950's.
A partir de cet album il se fait une réputation internationale qui lui permet de participper à des Festivals de blues dans l'Europe toute entière (France, Hollande, Norvège, Finlande etc...) au côté d'autres bluesmen comme The Jelly Roll Kings, Big Jack Johnson, Sam Carr, Super Chickan, Snooky Pryor, Little Milton, Pinetop Perkins, The Black Keys, Mel Brown, James Harman, the Fat Possum Blues Caravan, T-Model Ford, Paul "Wine" Jones, RL Burnside et Robert "Wolfman Belfour.
Parallèlement il tient la guitare au sein de nombreuses formations comme The Hound Dog Tribute band, Tav Falco's Panther Burns et The Sophie Kay Band. En 2006 il enregistre un album à Phoenix (Arizona), en 2007 il fait de nombreux concerts soit plus de 140 dates et en Décembre il enregistre le EP Blues Shakedown sur Witchcraft records.
En 2008 il signe pour le label d'Hollywwod Wild records, et en Mars 2009 ilsort l'album Let's get High qui lui permet de jouer dans les festivals Ice House et Viva las Vegas.
Ici nous allons nous interresser à son album de 2010 Boogie All night enregistré sur El Toro records, nous y trouvons les titres I'm Gonna Let You Go, Boogie All Nite, Another Sleepless Night, Going Back To Memphis, Iraq Blues, Blind Man Boogie, Miz Mary Lee, Ida Mae Blues, Can't Get No Mail, Raggedy And Dirty, This Ole House, Swamp Twist et Run Walk Or Crawl. Cet album est un album de blues traditionnel au son et aux style des plus authentique dans la lignée de Elmore James ou Hound dog Taylor qui va enchanter les fans du genre mais également séduire l'amateur de rock n'roll vintage sensible au son de la steel guitare et du bottleneck.