1 mars 2012
4
01
/

03
/

mars
/

2012
22:51
Levy Dexter n'est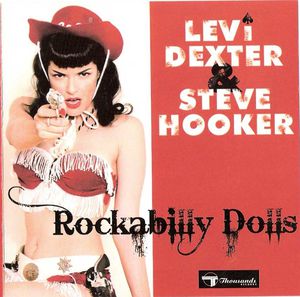 pas un nouveau venu dans l'histoire du rock 'n' roll il est avec ses Rockats à la fin des 1970's l'un des acteurs du renouveau du rockabilly outré atlantique et cela avant les Stray Cats, Steve Hooker est anglais et aussi une personnalité du monde de la musique il se fait remarquer à partir des 1990's comme interprète, compositeur et producteur de Rockabily, Rock 'n' roll et rockin' blues au style moderne en pleine vague du tout authentique.
En 2011 Steve Hooker et Levy Dexter enregistre un album produit par Steve à 1000 exemplaires sur le bien nommé thousand records Rockabilly Doll avec la Pin up contemporaine Bernie Dexter sur le recto. Levi est au chant, Steeve à la guitare, Terry à la basse électrique fender et Eddie à la batterie.Ce disque n'est pas vraiment un disque authentique mais bien du néo rockabilly à la sauce 2010 c'est-à-dire qui a su assimiler non seulement le psychobilly, mais aussi le garage voir le punk rock (oh le gros mot !!) mais rassurer vous tout en restant fidèle au rockabilly et rock 'n' roll. A l'image de cette ouverture d'esprit stylistique on peut noter deux covers de Johnny Thunder soit Downtown (attention gros son bluesy saturée) et Blame it on mom (le son est ici aussi blues rock saturé mais le titre est plutôt réussi, Shake eyed mama de Lee Hazelwood est un très bon rockabilly au son moderne et tranchant auquel Hooker a su nous a habitué, Jack the Ripper est la cover bien menée du classique « horror rock » de Screaming Lord Sutch, Look out Mabel belle version du rockabilly fifties Chess de JL Crockett, Tore up est une version très originale du titre de Hank Ballard and Midnighters, repopularisé début 1980's par Ray Campi, Motorhead baby est un blues rock radical fleur tant avec le hard rock, The only one round here et Wicked blues sont deux compositions de Hooker le premier étant un bon rock 'n'roll et le second un blues rock au gros son.
En résumé un disque plutôt réussi mais au gros son quand même qui est un peu trop présent sur des titres comme par exemple Motorhead baby, autant ce disque a mon avis peut séduire un amateur de gros rock qui tache ou punk rock qu'il peut rebuter l'amateur de rockabilly.
Levy Dexter & Steeve Hooker - Snake eyed Mama
...
Levy Dexter & Steeve Hooker - Blame it on mom
...
Levy Dexter & Steeve Hooker - Look out Mabel