21 mars 2012
3
21
/

03
/

mars
/

2012
23:02
Las Pistolas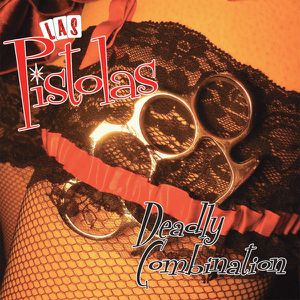 est une formation britannique de néo rockabilly et rock 'n'roll qui commence sa carrière en 2007, avec Benny the Rooster à la guitare, Sideshows à la contrebasse et Slick Stewie Fontaine à la batterie, en 2008, Stewie décède et est remplacé par Howlin' Hailstrom. C'est cette même année qu'ils réalisent leur premier Ep The Legend Begins sur Raucous Records. Ils passent sur la BBC Radio et sur des Stations web ce qui leur donne une certaine popularité qui leur ouvre les portes de show et les premières parties de formation s britanniques et américaines de Rockabilly ou psychobilly. En 2009 ils tournent en Europe jusqu'à participer à des grands shows européens en 2010. En 2011, ils reviennent en studio enregistré les 15 titres de leur album Deadly Combination.
Nous y trouvons les titres originaux de néo rockabilly rapide et medium plutôt réussis et doté de bonnes mélodies comme Pistol Packin' Peggy Sue (parfait) , I've Got Rhythm In My Soul, Cinnamon Kid, She'll Rock Your World (très réussi) , Don't Shut Me Out, Return Of Eddie Sin (influence western et mélodie inventive) Sunday Lover (au style plus roots), Black Widow (très efficace), Lady Luck et Sat But True (cover de Mettalica!!) d'autres son teinté de Swing et Jump comme Jump Start, Jessica Rabbit et d'autres sont des rockin' blues comme Liqour & Las Pistolas , Lost It All est une bonne ballade mélancolique, on peut noter la bonne reprise du Rock Around With Ollie Vee de Buddy Holly période rockabilly,
Le disque est réussi du début à la fin, pas de répétition ni de bouche troues malgrés avec un son et un style caractéristique et personnel très marqué que je qualifierais de néo rockabilly post Brian Setzer en gros proche de celui des Hot Rod Lincoln.