22 janvier 2010
5
22
/

01
/

janvier
/

2010
01:33
Le lp Kings of Rock n'roll - Rock top 16, (milan MI 160)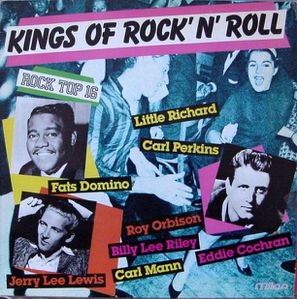 compile 16 enregistrements originaux des années cinquantes de quelques unes des plus grosses pointures de l'époque. Nous trouvons Blueberry Hill et Walking to New Orleans de Fats Domino (le maitre du rock manière Nouvelle Orléans), C'mon everybody et Somethin' Else d'Eddie Cochran (deux archétype et incontournable du rock blanc), Save the last dance for me (classique des Drifters), Great balls of fire, High school confidential et Whole lotta shakin' de Jerry Lee lewis (4 chef d'oeuvre du killer Jerry Lee lewis), Blue suede shoes et Matchbox de Carl Perkins (deux incontournables classiques du Rockabilly sortis chez Sn records), Tutti Frutti et Long tall Sally de Little Richard (deux rock explosif sortie chez Speciality), Mona Lisa par Carl Mann (Rock sortie sur Philips international filiale de Sun), Flyin' Saucers Rock n'roll par Billy Lee Riley (Rockabilly sauvage sortie chez Sun) et Wirlwind par Charlie Rich (sortie chez Phillips international)
Il s'agit d'une sélection efficace de titres rapides qui est une trés bonne entrée en matière pour un débutant, j'ai acheté ce disque juste par ce qu'à un vide grenier cela m'a fait de la peine de le laisser dans son bac pour les 2 € que le vendeur en demandé, en effet il n'a pas de valeur collection il s'agit d'un disque type "Nice price" mais rare au niveau mondial car n'existant que dans une édition française sur un label français que je ne connaissais pas.
Fats Domino: Blueberry Hill b/w Honey Chile
Fats Domino-Walking To New Orleans
LITTLE RICHARD - 'Tutti Frutti' - 1957 78rpm
LITTLE RICHARD - 'Long Tall Sally' - 78rpm 1957
Eddie Cochran "Somethin' Else"
Eddie Cochran - C'mon Everybody
Jerry Lee Lewis - Great Balls Of Fire
BILLY LEE RILEY - FLYING SAUCER ROCK'N'ROLL
Charlie Rich - Whirlwind

Carl Mann - Mona lisa