30 janvier 2010
6
30
/

01
/

janvier
/

2010
00:15
Le lp Rock n'roll de Jimmy Ridding and the Blue shoes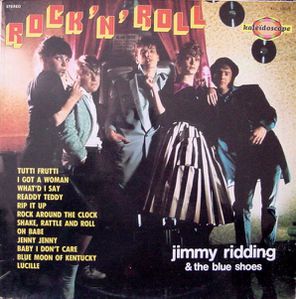 qui sort sur Kaleîdoscope (KAL . 19.023) et distribué par Vogue en france, est interressant non seulement par les covers de Rock n'roll fifties enregistré avec un soucie d'authenticité étonnant pour l'époque des enregistrements (entre 1969 et 1970) et par sa pochette sauvagement Teddy Boy sur laquelle pose 3 teds et 2 teddy girls devant un juke box et l'affiche du film de Alan Freed Mister Rock n'roll.
De 1969 nous trouvons What d'isay (cover de Ray charles), Ready Teddy et Rip it up ( cover de Little Richard), Oh babe (cover de Ronnie Hawkins) et Blue moon of Kentucky (une cover des enregistrements Sun de Elvis Presley), de 1970 nous trouvons Tutti frutti Lucille et Jenny jenny (covers de Little Richard), I got a woman (cover de Ray charles), Shake Rattle and Roll (cover de Joe Turner popularisé aussi par Bill Haley) et Baby i don't care (cover d'Elvis Presley periode RCA) et de 1971 Rock around the clock (popularisé par Bill Haley).
Ce disque n'est pas un classique se contentant de covers des fifties, mais comme la qualité et là il mérite d'être écouté.