22 décembre 2009
2
22
/

12
/

décembre
/

2009
16:54
Jimmy Bock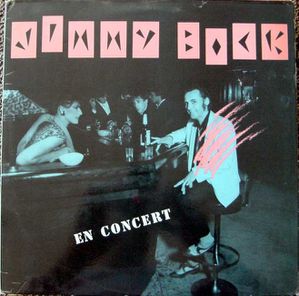 est un pianiste de Rock n'roll français originaire de Strasbourg (Alsace), ses influences sont les grands maitres du genre Fats Domino, Ray charles, Little Richard et bien sur Jerry Lee Lewis, son style est aussi à l'aise dans les ballades que dans les rock rapides. Il fait ses premières armes dans les clubs américains en Allemagne. En 1984 il sort un lp 33 tours live enregistré le 18 Mai de la même année et réalisé par Omega studio (OM 67052), l'arrière de la pochette reçoit une note de Michel Rose (historien français du Rock n'roll et rockabilly).
Au niveau des titres nous trouvons une majorté de titres de Little Richard comme Ready teddy, Rip it up, Tutti frutti, Lucille, Good golley Miss Molley et Long tall Sally (rien d'étonnant Richard est l'un des plus grand compositeurs de classique du rock!!), du Jerry Lee Lewis avec Great balls of fire et High School confidential, du Ray Charles avec Halleluyah i love you so et What i say, du Chuck Berry avec No particular place to go, Johnny be good et Roll over Beethoven, du Eddie Cochran avec Twenty flight rock et enfin du Peggy Lee avec Fever.
Il s'agit d'un bon live de Rock n'roll à conseiller aux fans de piano rock n'roll et boogie woogie.



Jimmy Bock Niederbronn février 1989
Jimmy Bock Niederbronn fevrier 1989
Jimmy Bock en 1994