23 avril 2010
5
23
/

04
/

avril
/

2010
09:52
Jerry Dixie (alias Gérard Sublard)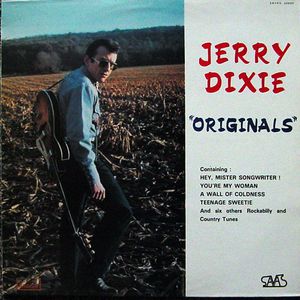 est un des pionnier du rockabilly français dans ce qu'il ya de plus puriste fleurtant sur ceratines faces avec le hillbilly bop et le western swing mais en gardant toujours la fièvre du rock n'roll. Il est originaire de Sartrouville (Yvelines France) ou il voit le jour en 1949 et à neuf ans il découvre le rock n'roll qui est la révélation de sa vie, il travaille dans un premier temps avec Jack Dumery chez qui il compose et enregistre des "démos" de titres qu'ils proposent à des artistes du genre américains comme Johnny Carroll et Mac Curtis.
De compositeur il devient interprette, il est au départ accompagné par les Rockin' rebels. L'album Jerry Dixie Originals (Savas 30001) de 1980 est un magnifique album de rockabilly puriste composé de 10 trés bonnes compositions de Jerry comme Hey, Mister songwriter, A little bit of your time, Don't let the bad times get you down!, You're my woman, Turn away from me, A wall of coldness, Sweet woman blues, how long will it take?, Ramlin blues et Teenage sweetie.
Nous trouvons sur ces sessions produites par Jerry, Patrick Verbeke à la guitare solo, Frederic Lussiez à la steel guitare et au banjo, Jacky Guérard au piano, Bernerd Weber à la basse, Alain Briaux à la batterie et tambourin et Lény Ibarra au cashboard.
Sur son label Savas il édite également trois 45 tours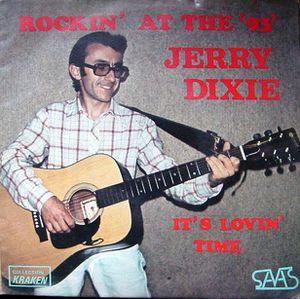 le simple Rockin' at the '93' / It's lovin' time (SAVAS S 170002) en 1982 une véritable perle du rockabilly des années 1980's dont l'influence hillbilly est moins présente et correpondant à son second lp que je ne possède pas et ou Jerry joue de tout les instruments, la même année parait un second simple ou il est accompagné en studio par les Rockin' Rebels Don't let the bad time get you down / Jambalaya ( SAVAS 170009 avec une cover de Hank Williams une des grandes références musicales de Jerry) trés réussi égalment, le Eps Savas Jerry Dixie VOL.1 contenant un medley Johnny B.Goode/Blue suede shoes (cover Chuck Berry et Carl Perkins), Blue Moon of Kentucky (cover de la cover d'Elvis du titre de Bill Monroe) et Be bop a lula (cover du classique de Gene Vincent) qui parait en 1983 est sympathique mais infèrieur à mon goût à tout ses autres enregistrements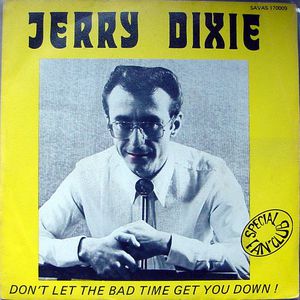 .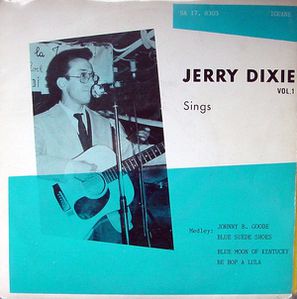 Jerry Dixie - Rockin' at the 93
Jerry Dixie & Rockin' Rebels - Jambalaya
Jerry Dixie - It's Lovin' Time
Jerry Dixie and the Hot Rocks - Jambalaya live 2008
Jerry Dixie & Hot Rocks - That Ain't Nothing But Right
2009

Jerry Dixie 1990's live
Jerry Dixie + Hot Rocks - Miss Froggie
THE HOT ROCK ET JERRY DIXIE live
2000's
Jerry Dixie and the Hot Rocks - Let's go boppin' tonight