9 septembre 2010
4
09
/

09
/

septembre
/

2010
12:58
Hot & Wild - 24 Red Hot Rockabilly tracks est une compilation de 2001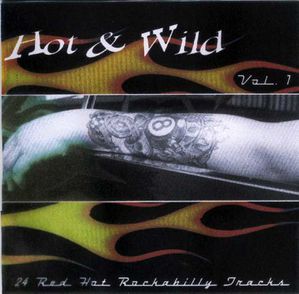 du label Cherokee (CHER-CD 107108) qui fait un tour d'horizon des formations de Rockabilly et rock n'roll à l'aube du nouveau millénaire nous trouvons The Jailbird avec Hurt again (néo rockabilly moderne) et Ballad of the one eyes jacks (un néo rockabilly dans le style des Raw Deal), The Silvertones avec Don't go away (néo rockabilly inventif) et Hot rod man (cover du classique de Tex Rubinovitz), Carlos and the Bandidos avec Avenging angel (néo rockabilly pêchu) et Fever (version de Fever popularisé par Peggy Lee dans le style de Johnny Kidd and the Pirates), Scotty Bullock & the stampeders avec '49 Mercury hell (entre néo rockabilly et Psychobilly) et Satellite rock (un néo rockabilly moderne avec choeurs), The Prowlers avec Blind drink (Rockabilly au sonorités britich) et Hot sauce (un néo rockabilly instrumental médium), Smokestack lightnin' avec les titres Real gone daddy (rockabilly) et Hell's angels (un néo country rockabilly au son moderne), Rockin' Carbonara et leurs titres It rock m'insegna d'amare (néo rockabilly en espagnol dans le style stray Cats avec guitare bluesy) et Gina wild (un néo rockabilly dynamique et à la mélodie moderne), du rockabilly au son authentique avec The Stampeders et les titres Honky tonk Sandy (rockabilly rapide) et the One i adore (rockabilly déjanté inspiré par le style de Charlie Feathers), Guy Lambert band avec Hey honey (magnifique rockabilly authentique et moderne à la fois) et Kansas city (trés bon rockabilly rapide n'ayant rien avoir avec le rock des fifties homonyme), Magic & his Retro-Rockets I'm comin' home (cover néo rockabilly et moderniseé du classique de Johnny Horton) et une sympathique cover du Jungle rock de Hank Mizzell, The Flatfoot Shakers Sutterin' Sue (génial Rockabilly authentique) et Heartbreackin' mama (autre magnifique rockabilly authentique et rapide) et the Duetones avec Ice cold baby (rockabilly authentique teinté de western swing) et Geronimo goes Surfin' (un surf instrumental trés réussi).
The Jailbirds
The Silvertones plays Cruisin' de Gene Vincent
Performing "FEVER" live on ITV's The Warehouse TV show from about 2000.Check out some dodgy acting too!!!
Smokestack Lightnin' Live At The "I Sold My Soul For Rock'N'Roll"-Weekender In Speyer. 22th March 2008
Nick Bisognano, Singerr and Frontman of Rockin´Carbonara with his Performance at the DJ Bobo Show 1998
Guy Lambert Band-Do De Bop
Flatfoot Shakers Stutterin Sue
Duetones - Shake 'Em Up Rock