1 février 2010
1
01
/

02
/

février
/

2010
00:12
Hot rod Lincoln est un trio de Rockabilly originaire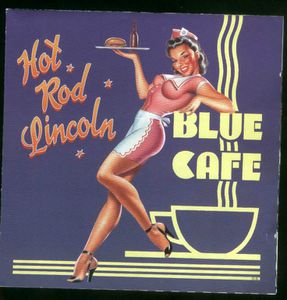 de San Diego (Californie) qui est produit depuis ses débuts par Lee Rocker (le Bassiste des Stray cats) et de ce fait est souvent en première partie de ce dernier mais aussi en accompagnement. Ils sont formé de Buzz Campbell (leadeur voval et guitare), Johnny G. D'artenay (leadeur vocal et contrebasse) et "Ty" Cox à la batterie. En 1997 le groupe sort un trés bon cd Blue café produit par Lee Rocker.
Nous trouvons des compositions de Campbell comme le bon néo Rockabilly One more time, Cattin' around une ballade jazzy rock n'roll du style de Fever, Saddle shoe stomp un médium rockabilly trés Stray Cats, Drink you off my mind un trés bon rockabilly rapide, Five bucks and a pack of cigarettes est un country rockabilly dans le style de Johnny Cash, The Worst you'll do is cry est une ballade country, Just three words est un slow rock, Cool cat rock est un néo rockabilly trés energique avec une rythmique et une structure typique de Bo Diddley, nous trouvons aussi des compositions d'artenay (le contrebassiste avec Please please please un jump and jive rock qui balance avec saxophone, That means you love him une trés bonne ballade country rythmée, Trouble on my mind un hillbilly bop, on peu également noter la composition de Brian Setzer ( leadeur des Stray Cats et du Setzer orchestra) Blue cafe qui est un trés original néo rockabilly qui est sans doute le meilleur titre de l'album, enfin des covers le Flyin' saucer rock n'roll le sauvage rock de Billy Lee Riley chez Sun records, True love ways de Buddy holly et Lonesome train rockabilly classique du Johnny Burnette rock n'roll trio chez Coral.
Quoique inégal (surtout au niveau des titres country et hillbilly), cet album est dans l'ensemble plutôt trés bon et se laisse écouter en boucle sans lassitude.


Buzz Campbell & Hot Rod Lincoln " Runaway Girl "
HOT ROD LINCOLN - VIVA LAS VEGAS 08
Buzz Campbell & Hot Rod Lincoln - Live in Concert 2008 (Blue Cafe)

Buzz Campbell and Hot Rod Lincoln European Tour '08