22 septembre 2010
3
22
/

09
/

septembre
/

2010
18:32
Hank C Burnette est la légende du rock n'roll suédois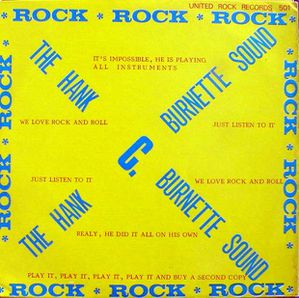 , il est né le 12 décembre 1944, il commence la musique en jouant de l'accordéon sous l'influence du grand maître suédois Carl Jularbo. Ce n'est qu'en 1958, avec l'achat de sa première guitare et qu'il se met à jouer du rock n'roll avec son groupe Teddy & the Teddy Bears. Il obtient une grosse popûlarité dans son pays à l'époque et devient le King of Rock n'roll suédois. C'est avec sa seconde formation The Little Johnny Combo qu'il enregistre ses véritables premiers titres. En 1960 il part pour le nord de la suède, et c'est durant les années soixante qu'il commence à acheter ses premiers éléments qui formeront son studio d'enregistrement personnel. En 1967 son équipement est complet. En 1967 il signe son premier contract avec le label Blue Horizon et réalise le simple Hank's guitar boogie / Hambone shuffle puis il enregistre un grand nombre de simples de rock n'roll distribué sur différents petits labels en europe et aux USA entre la fin des 1960's et le début des 1970's. En effet Hank C Burnette s'enregistre chez lui , mais il joue de tout les instruments sur ses disques ce qui donne à ses enregistrements une forte originalité. C'est en 1973, qu'il enregistre son premier lp sur United rock records.
Ce lp Listen to it and love it (united rock records 501) contient 14 titres dont deux compositions The sun is shining et I'm not worth the tears et un titre dont je ne connais ni l'auteur ni la version originale Rock n'roll grandpa, les 1é autres titres sont des covers particulièrement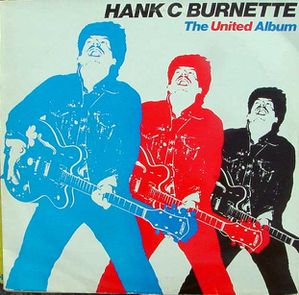 originales et étonnantes Bottle to the baby (Charlie Feathers), You're a heartbreacker (Elvis Presley chez Sun), Red hot (Kid Emerson / Billy Lee Riley), Too much (Evis Presley), Rockin' rollin' stone (Andy Starr), Hillbilly Wolf (Bill Carlisle), Blues stay away from me ( Delmore brothers, Johnny Burnette and rock n'roll trio), Ubangui stomp (Warren Smith), Hot Rock (Johnny Carroll), Oakie boogie (Hank Swatley) et I wanna play house with you (Elvis Presley) le style de l'artiste est déjas présent avec sa grosse voix à la Sleepy La Beef ou Johnny Cash et son gros son et typique du rock n'roll teddy boys des seventies. Je possède également la réédition de ce disque (collection quand tu nous tiens!!) sur Rock and country records (R &C 1013 mono) sous le nom The United album.
De la même pèriode je possède la compilation Star club records Hank C Burnette N°1 rock-a-billy contenant 16 titres sortis entre 1968 et 1974 mais jamais encore édité de 1968 Heebie jebie blues, de 1971 N°1 Sue et Sugaree sugaree, de 1972 Havin' me a whole lot of fun, Rock n'roll boogie (cover de Big Al Downing), Draggin' (cover de curtis Gordon) et Go! go! go! (cover de roy Orbison chez Sun), de 1973 Rockin' rollin' stone (prise alternative de sa cover d'Andy Starr) et Red Hot (cover de sa cover de Emerson / Riley) et de 1974 Look out heart, Latch on (cover de Eddie Cochran), Telephone baby (cover de Johnny Otis), Wild little Willie (cover de Ronnie Hawkins), Country cattin, How about me, pretty baby (cover de Jimmy Johnson) et Did we have a party (cover de Billy Brown).
De chez Jan / Star club je possède aussi le lp Spinin' rock boogie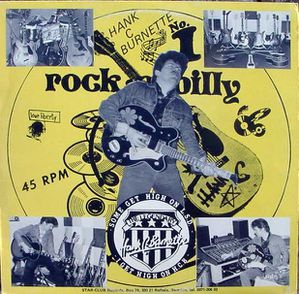 (Jan 33-8013) qui compile des faces anciennes de l'ariste dont certaines des sixties comme Fury (cover des Nu-notes) de 1962, Driftin' (cover des Shadows) de 1964, Hank's guitar boogie special de 1965, I'll be around (cover de Glenn Honeycutt) et Hand off de 1966, Here comes that train (cover de Eddie Bond) de 1969, Spinnin' rock boogie, Is it wrong? et Rakin & scrapin' (cover de Dean Beard) de 1971 et Pink and black (cover de Sonny Fisher) Everybody's movin' (cover de Glen Glenn), I've got the blues (cover de Hound Dog Taylor), Ain't got that thing (cover de Sonny Burgess) et Rock me (cover de Billy Adams) .
C'est en 1976 avec son album Don't mess with my ducktail qui sort chhez Sonet records (VG 404 528104) qu'il obtient une trés grosse popularité en europe ses disques se trouvant même distribué par des labels locaux comme Vogue pour la france, la son et la production est plus complexe sque sur ses enregistrements précédent tout en restant quand même trés rock, on retrouve son classique Spinning rock boogie et d'autres compos de hank comme Your driving me please, Hank's 97 et Rock ola jive le reste est formé de cover toujours aussi originales de Don't mess with my ducktail (de Ruddy Grayzell), Fools like me (de Jerry Lee Lewis), Gold in the morning sun (de Sonny James), Rocking daddy (de Sonny Fisher), Peggy Sue (de Buddy Holly), Riders in the sky (de Stan Jones) Blue Moon (de Richard Rodgers et Lorenz hart de 1934 repris par Elvis chez Sun, et les Marcel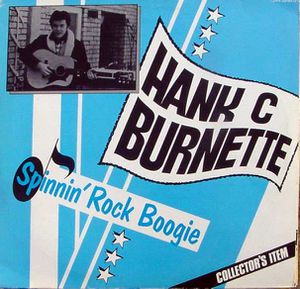 s en Doo wop au début des 1960's) et Come on little mama (rockabilly sun de Ray Harris).
Son album suivant Rockabilly Grasseroonie de 1978 sur Sonet (DL B 8172 -1978) est également une assez grosse vente ici aussi la production est particulièrement recherché et brillante, nous trouvons les titres Dirty boogie (cover de Roy Hall), Pony tail girl (cover de Glenn Garrison) , Guitar Nellie (un des gros classique de Hank), Red Cadillac and the black Mustache (cover de Warren Smith / Bob Luman), Sweet skinny Jenny, Patsy (cover de Jack Scott), Good, good lovin', Connie Lou (cover de Ray Taylor), Too much (cover d'Elvis Presley), Rackin and Scrapin' (cover de Dean Beard), Over the Rainbow (cover de Judy Garland / Gene Vincent), Sneaky Pete (cover de sonny Fisher), Rocky Road blues (cover de Bill Monroe / Gene Vincent) et Miss Froggie (cover de Warren Smith).
Enfin son troisième lp sur Sonet Hot licks and fancy tricks (SNTF - 792) est trés étonnant surtout au niveau des instrumentaux dont la production et les sonorités sont vraiments étonnantes!! comme par exemple sur ces versions instrumentales de titres de Buddy Holly comme Maybe baby et Well ...all right, au niveau des covers on peut aussi citer Boppin' the Blues de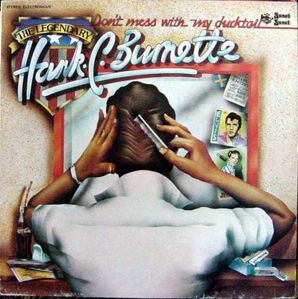 Carl Perkins et That's All right (Arthur Cruddup / Elvis Presley) le reste est composé que de compositions de Hank comme I' a king bee, baby, B. D.'S back in town, Sugaree, sugaree, Clawdy, Beach slide, Hot rock Sally, J. T. starry-eyed, The king of rock n'roll et I ain't fakin'.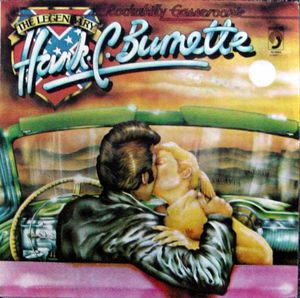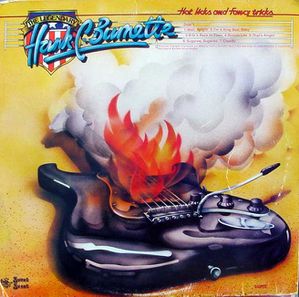 Hank C Burnette - Too much