8 mai 2012
2
08
/

05
/

mai
/

2012
09:55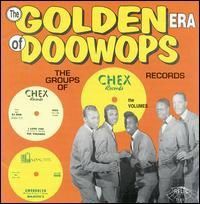 La compilation Relic consacrée aux faces doo wop du label Chex met en avant The Volumes avec du doo wop stroll rapide au son début sixties comme I Love You (Dans l'esprit des Four Seasons on trouve également une version différente du titre), Come Back Into My Heart (dans le style des Marcels), County Jail (dans le style des Olympics avec une bonne guitare blues), du doo wop mélancolique avec le parfait The Bells et le génial Dreams, du teen rock avec le medium The La La Song, on peut noter les titres accapella le medium Angel, le gospel I Wanna Be Your Man et l'incroyable ballade Miss Silhouette , le rapide Roly Poly et surtout le rapide et strollant You Put A Spell On Me absolument génial !! Rien que les faces des Volumes méritent l'achat de ce disque un groupe méconnu du genre. Nous retrouvons The Volumes avec le chanteur Donald Richardssur 2 titres medium I Cried For Your Love et Hello Operator. Le second groupe particulièrement présent sur l'album sont The Majestics avec du doo wop rapide de type classique vraiment bon comme Gwendolyn, Unhappy And Blue (dont le leadeur est dans la lignée de Jackie Wilson), Shoppin' And Hoppin' (très rock 'n' roll), des ballades avec So I Can Forget et Lonely Heart (doté d'une très grande émotion) et certain titres sonnent très sixties comme la balladeBaby, le rhythm and blues Treat Me Like You Want To Be Treated et le twist Teach Me How To Limbo. Ici aussi un groupe a connaître.
Nous trouvons d'autres artistes comme The Bohemians avec un simple de bonne facture avec les ballades Some Happy Day et Say Sweet Things (dans le syle de Johnnie and Joe), Tony & The Technics avec un simple contenant le teen rock insipide Ha Ha He Told On You et le bien plus réussi rock vocal Workout With Your Pretty Girl enfin nous trouvons une très belle ballade mélancolique Come To Me interpretté par Othea George assez classique mais bigrement réussie.
..............
Donald Richards & The Volumes - Hello Operator
The Volumes - I Wanna Be Your Man
..............................
The Majestics - Gwendolyn