5 juin 2012
2
05
/

06
/

juin
/

2012
20:31
Le label Apollo records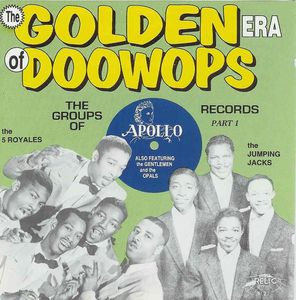 est une maison de disque newyorkaise fondée en 1944 par Bess Berman et son fils Isaac "Ike" Berman, il deviendra célèbre grâce à ses enregistrements de formations Doo wop et d'artistes de Blues et gospel (Champion Jack Dupree et Mahalia Jackson). Au niveau du doop wop , ont peut noter quelques formations légendaires des origines du style comme the Orioles, the Larks (qui classe à la 5 eme place du hit parade R & B de 1951 le titre Eyesight to the Blind) et the Five Royales, devant le succès rencontrer par ces formations qu'en 1954 il est créé une filiale du label, Lloyd's records entièrement consacré au style ; Le label disparait en 1962.
Le grand nombre d'enregistrement doo wop sorti sur le label va demander à Relic de produire 4 volumes de sa série Golden Era of doo wop consacré à Apollo records.
Le Volume 1 nous présente 8 simples pour 6 groupes, the Jumping Jacks avec Don't Let That Dream Come True (ballade vocal assez lente mais superbe au nveau des harmonies)/Long Head Leggy Rascal (un jump rock vocal) et Why Oh Why ( ballade lente ) Julocka Jolly (un jive rapide), the Gentlemen avec Something To Remember You By (un rock n' roll doo wop dans le style des Eldorados) /Don't Leave Me Baby (une ballade R & B avec un beau riff de guitare)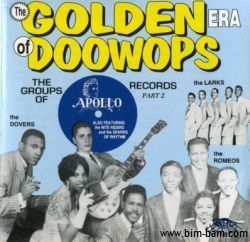 et Baby Don't Go (un jive rapide) / Tired Of You ( ballade blues vocale lente présente aussi avec une version inédite), Billy Austin & The Hearts avec Angel Baby (rock 'n' roll vocal rapide) / Night Has Come (ballade doo wop lente), the Five Royales avec Courage To Love (balladeR & B (lente) Baby Don't Do It ( doo wop medium aux melodies gospel), Lydia Larson & The River Rovers avec I Just Love You So (un blues vocal medium) Bald Headed Daddy (un rock 'n'roll vocal medium), the Opals avec Oh But She Did (un jive rapide) /My Heart's Desir (une ballade doo wop),auquel se rajoute 3 prises inédites de titres des Larks soit My Lost Love (ballade jazzy), I Don't Believe In Tomorrow (ballade variétée) et Darlin' (ballade jazz)..
Ce premier volume se compose d'enregistrements aux sonorités du début des 1950's c'est-à-dire proche du Rhythm and blues, Gospel, Jazz et black rock 'n' roll.
Le volume 2 nous présente 5 formations the Romeos avec Love Me (R & B vocal), Somebody's Been Plowing My Mule (jive medium assez fabuleux), Oh Baby Oh (un blues vocal) et I Beg You Please (un R & B vocal medium), the Night Riders avec Rags (un rock n' roll vocal assez sauvage), Keep It A Secret (doo wop medium),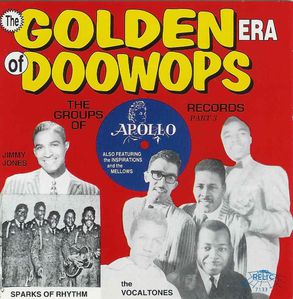 Women & Cadillacs (un rock n' roll rapide assez genial dans le style de Rocket 88 de Jackie Brenston), Doctor Velvet (un rock 'n' roll medium déjanté) et Say Hey (un jive medium), Barbara Gale & The Larks avec Who Walks In When I Walk Out (jazz vocal medium feminin), You're Gonna Lose Your Girl (un jive rapide), When You're Near (belle ballade jazz) et Johnny Darling (ballade variété), the Dovers (seconde formation avec une chanteuse leadeur) avec Please Squeeze (un rock 'n' roll medium), My Angel (ballade doo wop) et My Love.(bonne ballade vocale) et the Sparks Of Rhythm avec Stars In The Sky (un trés bon jump rapide), Hurry Home (ballade variétée), Women Women Women (un rhythm and blues vocal rapide) et Don't Love You Anymore (un R & B medium).
Ce volume est à mon goût plus exitant que le précédent car faisant la part plus importante à des titres aux rythme soutenu avec un faible pour les sauvages Night Riders.
Le Volume 3 nous présente 8 formations the Vocaltones avec Darling (un génial rapide doo wop classique), Please Don't Leave Me (un rock n' roll vocal inédit), My Girl (ballade doo wop), I'm Gonna Get That Girl (un jive rapide), Three Kinds Of People (une ballade blues vocale) et My Version Of Love (une ballade vocale) , the Keynotes avec I Don't Know (un doo wop rapide véritable petit chef d'œuvre), the Inspirations avec Raindrops (ballade doo wop), Maggie (un jump medium très bon) et Pretty Mama (ballade blues inédite), Lillian Leach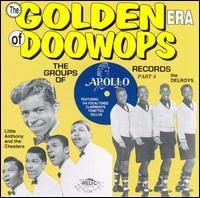 & The Mellows avec 2 inédits So Strange (belle ballade doowop avec chanteuse) et Be Mine (un jive medium), Sparks Of Rhythm (déjas présent dans le volume précédent) avec Cry On My Shoulder (ballade doo wop inédite), Somewhere (ballade lente inédite), Everybody Rock And Go (bon rock 'n' roll rapide) et Handy Man (un R & B vocal), the Casanovas avec That's All (ballade doo wop), Claremonts avec Rockabye Baby (un génial doo wop rapide en accapella étant en réalité un enregistrement d'audition !!), Brenda Lee & The Vocaltones un groupe avec leadeur vocal féminin avec I Ain't Gonna Give Nobody (un rock n' roll rapide) et My Last Goodbye To You (ballade Rhythm and blues),
Ce volume d'une bonne qualité semblable aux précédent contient quelques petites perles comme cette audition tape des Claremonts.
Le Volume 4 et dernier consacré au label par Collectible nous permet d'écouter les enregistrements de 12 formations.the Delroys avec Bermuda Shorts (un petit chef d'œuvre du doo wop rapide) et Time (ballade mélancolique doo wop), the Vocaltones que nous retrouvons sur ce 4 eme volume avec I'll Never Let You Go (très bon jump doo wop), My Version Of Love (ballade melancolique) et Darling (très bon doow op classique rapide), the Tonettes un girls group avec Howie (superbe ballade medium) et Oh What A Baby (encore meilleur rockin' doo wop dans le style des Bobbettes avec un solo de guitare killer), the Cellos avec Rang Tang Ding Dong ( rockin' doo wop rapide) et Girlie That I Love (génial doo wop rapide), La Fets & Kitty avec Christmas Letter (une ballade doo wop), the Chesters avec Fires Burn No More (belle ballade doo wop) et Lift Up Your Head (un doo wop stroll magnifique), the Casanovas (que nus retrouvons ici) avec Please Be Mine (ballade doo wop), the Claremonts girl's group que nous retrouvons ici avec des titres édter par appollo comme Angel Of Romance (medium doo wop) et Why Keep Me Dreaming (ballade doo wop avec des passages de sax très originaux), Vince Castro & The Claremonts avec Bong Bong (un petit chef d'œuvre de doo wop rapide), Ann Ford avec The Fool (une ballade variété), Armanda & The Jays avec Present Of Love (jive medium), the Brochures avec They Lied (doo wop stroll) et the Admirations avec My Baby (un doo wop dans le style des Belmonts avec beau solo de guitare).
Ce quatrième album consacré aux enregistrements doo wop du label Appollo est le meilleur des 4 et sans doute aussi l'un des meilleurs de la série The golden Era of Doo wop de Collectible.