27 juin 2010
7
27
/

06
/

juin
/

2010
17:24
C'est à la fin des années 1980'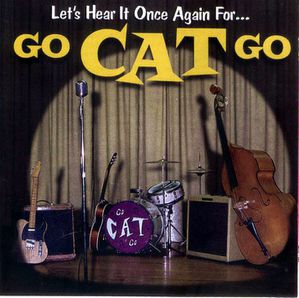 s que se forme le groupe de rockabilly authentique Go cat go, style qui est moin d'être majoritaire dans le monde du rock n'roll revival en effet nous sommes en plein dans la mode du Néo rockabilly et du psychobilly. C'est à la fin de l'été 1989 que le groupe commence à se faire connaître par des concerts de grandes qualités dans des petits clubs.
Le groupe est formé de Bill Hull (Guitare solo), Darren Spears (Chant et guitare rythmique), Lance Le beau (batterie) et Brian Freeman (Contrebasse). En 1990 ils s'autoproduise sur une cassette audio Out of Control avec six compositions de Darren Who was the cat, Forever's much to long, Time to rock, Please mama please, Toll the cool cats cry et 10 ways to rock qui sont de véritables perles du genre.
En 1991, ils enregistrent 6 autres compositions tout aussi fabuleuse sur un 25 cm au vinyl rouge de Rock-a-Billy Records (R-301-LP) soit Little baby doll, I've got my eyes on you, Can't tie me down, Big train, Other side of town et Lonesome Road, ils enregistrent également cette même année deux autres titres qui ne sortiront pas en dique à l'époque Other side of town et I've got my eyes on you.
Le 25 cm est un succés ils apparaissent alors en 1992 sur la compilation Run wild records Big D.C. Jamboree Volume 2 (RW - 303), le 12 Aout de ils enregistre au studio Sun Please Mama Please, 'Til the Cool Cats Cry, Who Was That Cat, , Honey Don't (de Carl Perkins), Blue Days Black Nights (Buddy Holly), Flyin' Saucers Rock 'n' Roll (Billy Lee Riley) et That's all right mama (d'aprés la cover d'Elvis sur Sun du titre d'Arthur Cruddup).
En 1993 ils font une tournée en Californie, au Texas ils jouent au côté d'artistes majeur du genre comme Big sandy ou the High Noon. Le groupe par la qualityé de ses enregistrements se fait connaître en Europe, le groupe doit faire une tournée pour l'été 1994, mais Darren le 14 Septembre 1993 est assassiné par des teenagers qui ont volé une arme.
L'ensemble des titres enregistré par le groupe et d'autres inédits sont présent sur l'indispensable album CD Let's heart it once again for... Go Cat Go de Vinylux (CD V0002) dont les 25 titres sont réellement excellent d'une maitrise et d'une qualité incroyable l'un des plus fascinant album des 1990's.
Nous trouvons les titres Good rockin' tonight, Little baby doll, Please mama please, Mystery train, Flyin' saucers rock n'roll, 'Til the cool cats cry, Just because, Can't tie me down, Blue days black nights, I've got my eyes on you, Time to rock, Forever's much to long, Who was that cat, Milkcow blues boogie, Reconsider baby, Lonesome road, Big train, Ten ways to rock, Drugstore rock n'roll, Hot rod man, Stockin' and shoes, Blue Moon of kentucky, Pink and black et Tell me why.