24 novembre 2009
2
24
/

11
/

novembre
/

2009
23:12
Dans la lignée des deux 25 cm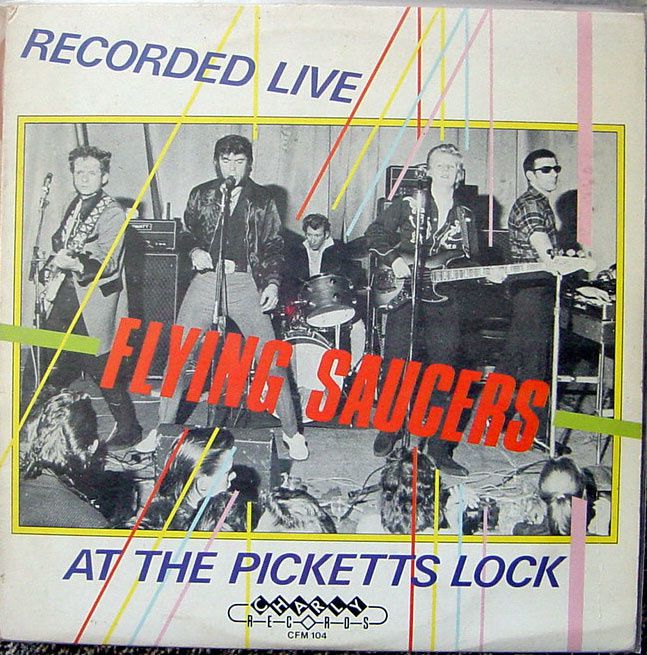 dont j'ai parlé précédemment d'enregistrement live de Crazy Cavan & the Rhythm Rockers au Picketts locks sports centre en Mai 1976, voici un 25 cm consacré à Flying Saucers.
Ce groupe est une autre pointure de la scène Rock n'roll et rockabilly dans le royaume unis de la fin des seventies, la grande popularité du groupe auprés des plus purs et durs des teds et Rockers vient du talent de Sandy Ford (leadeur chanteur) et de son groupe Nigel Owen (guitare solo), Terry Earle (Batterie), Pete Pritchard (Basse) et Jack Buddin (saxophone et piano) qui on su associer Rock n'roll et rockabilly dans un style trés particulier et unique. En effet ce 25 cm Charly records Recorded at the Picketts lock de 1983 (CFM 104) met en évidence l'éclectisme du groupe qui interprete du jump de Bill Haley R.O.C.K. du black rock n'roll sauvage de Little Richard Good Golley Miss Molley au côté de rockabilly classique comme Miss Froggie de Warren Smith chez Sun, ou Washing Mashine Boogie de Bill browning tout cela en gardant un son et un style très particulier. Ils reprennent également You're my sunshine (un traditionnel archi repris par des rockers ou des chanteurs de folk), Apron Strings (petites perles du rock nroll rapide de la fin des fifties qui sera repris par Elvis et Cliff Richard), I'm Goin' home (qui sera transcendé par l'interprétation qu'en fit Gene Vincent ), Rock n'roll boogie un rock n'roll de Bobbie Poe(Big Al Downing), Flea brain un autre classique de Gene Vincent, et Hey bop a rebop un excellent jump blues qui sera interpretté par Wynonie Harris.
Un disque qui ravira tout amateur de rock n'roll bien trempé.