27 juin 2010
7
27
/

06
/

juin
/

2010
16:51
Flatfoot Shakers est une formation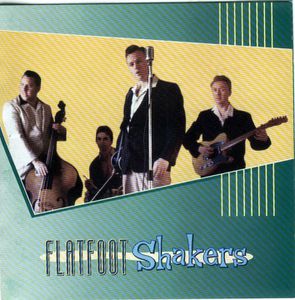 de Rockabilly authentique Australienne (Melbourne) qui se forme en 1997 par Kieron McDonald (chante et guitare rythmique), Phil Jones (Guitare solo), Jamie Vancam (Batterie) et Carl Baker (contrebasse).
En Septembre 1999, ils sortent leur premier album sur Preston records, et grâce à ce dernier se fait connaître à l'étranger et tourne dans des festivals majeurs comme The Rockabilly rave en 2001 et Viva Las Vegas en 2001 et 2005.
Le premier album du groupe sur Preston records (PEP 5071) contient 13 titres de rockabilly au son fifties dont 8 sont des compositions du chanteur Kieron Mc Donald soit les rockabilly rapide et médium My little baby's (goin' boppin' tonight), Heart breackin' mama, Chicka boom, Yonder comes the devil, Stutterin' Sue, You ain't so big (to be Littlin' me), I wonder if et Lonesome (un petit chef d'oeuvre) et Bad luck blues, l'instrumental Phils boogie de son côté est une composition du guitariste Phil Jones, au niveau des covers nous trouvons Whenever your ready (Dorsey Burnette), Jitter bop baby (Hal Harris), I wonder if (Jimmy Kirkland) et Tag along (Rocket Morgan).
Un album d'une grande qualité musicale qui raviera l'amateur de rockabilly authentique qui sur certains titre laisse également entrevoir des influence hillbilly et western swing