13 novembre 2009
5
13
/

11
/

novembre
/

2009
22:43
Flash Cadillac and the Continental Kids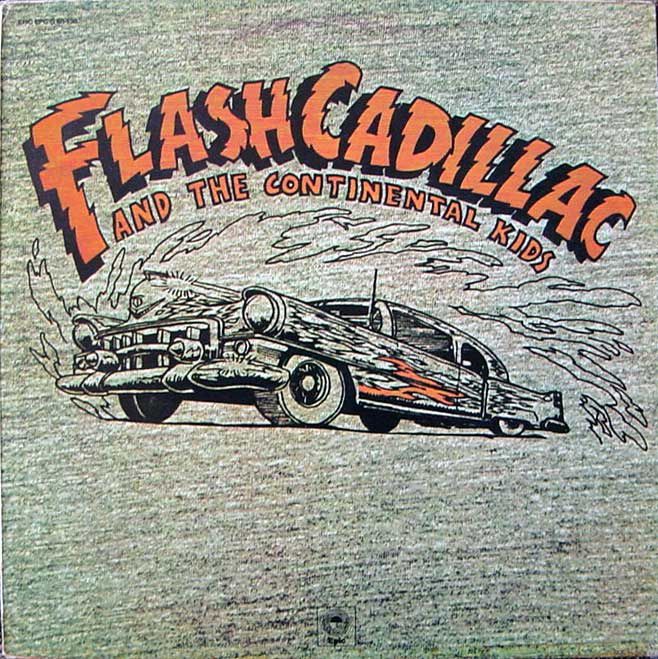 est un groupe de Rock n'roll américain de type "Oldies" originaire dont le répertoire est plus proche du doo wop , et Teen Rock que du Rock n'roll sauvage, white rock ou Rockabilly. Le groupe se forme en 1969 à Boulder (Colorado) avec Angelo Moe au piano (& orgue), Spike V. Phillips à la guitare, Butch Knight à la basse, Wally Stewart à la batterie, Spider Dumas Bement au saxophone et Mick Manresa (alias Fash Cadillac) chant et guitare rythmique. Leur premier concert date de Février 1969, en 1971 Sam McFadin remplace Mick en tant que chanteur (un nouveau Flash Cadillac). Le groupe part ensuite à Los Angeles, passe avec succés à l'émission TV American Bandstand et enregistre un album.
Ils obtiendront une renommée mondiale avec leur apparition dans le film de George Lucas American Graffiti dans lequel ils interprettent At the Hop (Reprise de Danny and Juniors), Louie louie (reprise du traditionnel popularisé par les Kingsmen) et Up on the Mountain un Doo wop des Magnificients. Ils apparaîtront aussi dans un épisode de la série télévisée Happy Days, et joue un titre dans la BO du film Apocalypse Now.
Leur premier album Flash Cadillac and the Continental Kids Epic (EPC S 65438) de 1972 est produit par Kim Fowley et enregistré au Goldstar studios d'Hollywood. Cet album possède évidemment une production de son époque (début des seventies) mais trés réussie ,de même que la trés belle pochette représentant une caricature d'une Cadillac 1953 flammée. La qualité des titres et l'originalité du style fait de cet album un classique du Rock n'roll du début des 1970's. On trouve des reprises: Muleskinner blues (traditionnel repris avec génie par le Fendermen au début des sixties) l'instrumental surf Pipeline, un tube de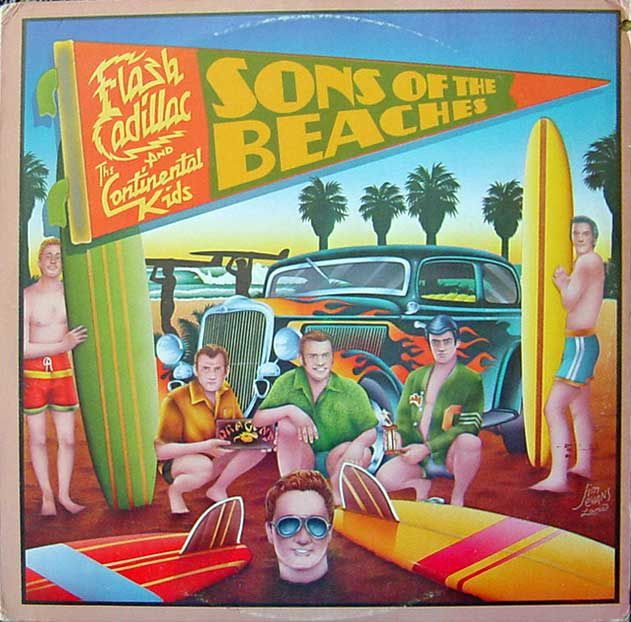 1959 de Bob and Travis Tell him No, Crying in the rain des Everly Brothers et le white rock Endless sleep de Jody Reynolds.
Nous trouvons les compositions trés réussies de Kris Moe: bien sur leur tube She's o fine (de la bo d'American Graffiti), mais aussi Teenage eyes et Betty Lou, une composition de Kim Fowley Reputation, une composition de Mc Fadin Nothin' for me, et You gotta Rock.
En 1975, lê groupe sort sur Private stock un second lp Sons of the beach, avec également une belle pochette dessinée représetant le groupe en surfeur avec un Hot Rod Ford 1934 . Cette album est stylistiquement inspiré par le surf du début sixties par le son, les mélodies et les vocaux. Ici aucune reprises que de la composition: Summer means fun, Time will tell, Hot summer girls, It's a summer night, C'mon let's go (rien à voir avec le titre de Ritchie Valens), Good times, Rock n'roll, You sat right there, I wish you'd dance, It's hard (To breack the ice) et Rock n'roll menace. Ce disque quoique moins réussie que le précédent reste un album au style trés personnel et trés agréable à l'écoute.





At The Hop ~ She's So Fine - Flash Cadillac and The Continental Kids from American Graffiti


From Happy Days, the clip of Flash and the Kids singing "Young Blood" -