27 janvier 2010
3
27
/

01
/

janvier
/

2010
19:17
Everybody in the whole cell block...!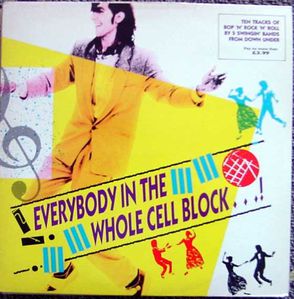 Ten tracks of bop 'n' roll by 5 swingin' bands from down under est une compilation de 10 titres de rock n'roll rockabilly et Jump enregistré en Australie dans les 1980's qui sort sur Regular records / Hybrid records en 1985 (HYB lp 4).
Ce lp complète le lp Ausiebilly consacré lui aussi à des enregistrements de rockabilly australien des 1980's mais sortis en 45 tours sur le label Preston Records. (voir l'article consacré à la compilation sur le blog)
Nous trouvons sur le lp Everybody in the whole cell block...! the New Dancehall Racketeers (présents aussi sur le lp Ausiebilly) qui interprettent We're gonna teach you rock et In the mood (deux titres Jump rock dans le style de Bil Haley dont la reprise du swing eternel de Glenn Miller), The Jaguars (qui ont comme chanteuse Toni Allaytis, qui est probablement la chanteuse des Toni and the Tomcats du lp Ausiebilly) interprettent They call me the rockin' lady et Don't ever leave me gain (deux trés bon rockabilly féminin), The Straight 8's (également présent sur le lp Ausiebilly) font du rockabilly efficace avec la cover de Bop street de Gene Vincent et Wig Wam Willie, Les Trebble Clefs font du rockabilly dans un style plus moderne et aux sonorités rappelant le rockabilly teddy boys de Grande Bretagne avec Rockabilly land et Big bad billy, enfin les Milky bar kids malgrés leur look new wave sur la photo du verso font du néo rockabilly d'un trés grande qualité avec If you remember et la cover exeptionnelle de qualité et de créativité du Flaming star d'Elvis Presley.
The Straight 8's - Bop street