13 février 2012
1
13
/

02
/

février
/

2012
10:51
Les lecteurs de Rockin' records ont bien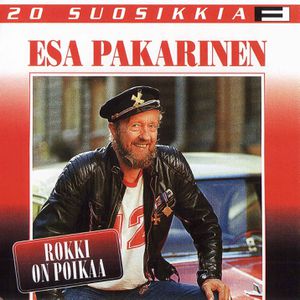 compris que le rock 'n'roll n'est pas seulement une musique américaine, voir même anglo saxonne, elle est jouée dans de trés nombreux pays dans le monde (encore plus en 2010 probablement grâce à internet), toujours est il que durant les 1970's parallèlement au retour du rock 'n'roll aux usa grâce à Ronnie Weiser et son label Rollin' Rock ou en Angleterre grâce aux Wild Angels, Esa Pakarinen lui fait du rock'n'roll en Pologne ce qui n'est déjas pas banal et en plus chanté en polonais. Artistiquement et stylistiquement nous sommes plutôt face à un équivalent ce qu'il se faisait en France, Espagne, Allemagne ou Italie au début des années 1960's c'est à dire des covers de rock US mais chantées dans la langue nationale, le résultat est surprenant et assez amusant.
L'album cd 20 Suosikkia compile 20 titres enregistré par Esa entre 1974 et 1977.
De 1974 nous trouvons Rokki On Poikaa cover de Cradle Of Love un rock 'n'roll de Johnny Preston, Köyhä Mä Oon une version assez réussi de Poor Little Fool de Ricky Nelson, Härmä Rokkaa une cover du jump rock Happy Baby de Bill Haley & the Comets, Niin Vaikeaa On Teinirakkaus cover du doo wop A Teenager Of Love de Dion & the Belmonts, Noin Se Onnistuu cover du teen rock I Saw Linda Yesterday de Dickey Lee, Kalsarit Vain cover du classique Runaround Sue de Dion en solo, Rock On Tullut Jäädäkseen trés étonnantes version du Rock 'n' Roll Is Here To Say de Danny & Juniors, Antaa Mennä Vaan cover du It Doesn't Matter Any More de Buddy Holly, de 1976 nous trouvons Hullu Mies Hullu cover trés amusante de Crazy Man Crazy de Bill Haley & Comets, et R-O-C-K cover du titre du même nom de Bill Haley, Tahdon Naida Armin cover de I'm Gonna Get Married de Lloyd Price, Tolkuton Tunne version trés kitch du déjas bien kitch de Crazy Love de Paul Anka, Vieläkin Uudestaan cover du Over And Over de Bobby Day et Anssi Kulta, Tanssi Rock 'n' Roll cover du Rock 'n' Roll Ruby de Johnny Cash qui savère être un des titres les plus interressant et de 1977 Koivu Ja Sydän semble être une composition dans un style crooner rock, Anna Pois cover du traditionnel Skiffle Hand Me Down à noter le bon solo, Nuori Rytmi est une composition trés inspiré de Bill Haley, Oli Kuu, Oli Ilta cover du Tintarella Di Luna de Mina, Diivaillen cover de Puttin' On The Style l'un des classique skiffle de Lonnie Donegan et Nykyään On Mälsää est une composition rock 'n'roll assez bien vue.
Personnellement je trouve se disque plus interressant d'un point de vue historique et humoristique que réellement artistique, même si dans l'ensemble cela reste écoutable et bien joué, Esa semble plus à son aise sur du Jump rock ou du skiffle que sur du doo wop ou teen rock.
Esa Pakarinen - Rokki On Poikaa
Esa Pakarinen - Nuori Rytmi
Esa Pakarinen - Nykyään On Mälsää