30 octobre 2010
6
30
/

10
/

octobre
/

2010
23:55
Earl and the Overtones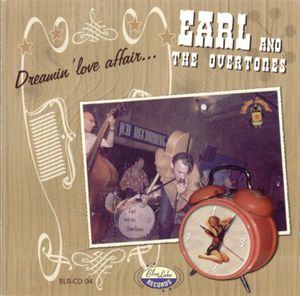 est une formation de rockabilly authentique française (de la ville de Bourges).
En 2004 Earl accompagné par The Overtones (en fait ils sagit des Wild Goners) enregistre un trés bon album Dreamin... love affair (BLR-CD) sur du matèriel d'enregistrement de studio vintage (JCR recording service à Vevey - Suisse) pour le label Suisse Blue Lake Records.
En grande majorité le style va du rockabilly "brut de pomme" au white rock sauvage, mais avec quelques influences rockin' blues et country boogie. Nous trouvons de trés bonnes compositions comme Dreamin'Love Affair, Leave My Woman Alone, Don't Be Square et She's A Sweetie, et des covers de titres plus ou moins connus voir carrément obscure comme Kathleen et I'm Glad My Baby Is Gone (Glen Glenn), She's Mine (Johnny Jano), Best Dressed Beggar In Town (Houston Turner), I'm Gonna Move (Benny Joy), Nancy (Pat Tedder), Dry Run (Jimmy Bradford), Run Baby Run (Claude King), Big Bad Wolf (Clinton O'Neal & the Country Drifters) et Blue Swinging Mama (Larry Dawd).