12 mars 2012
1
12
/

03
/

mars
/

2012
08:22
Progressivement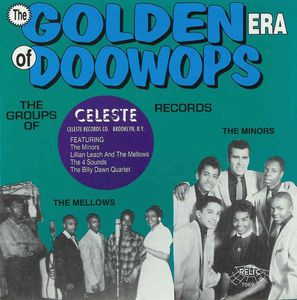 grâce aux compilations Relic records nous allons découvrir les enregistrements de Doo wop mis en boite sur une multitude de labels indépendants durant les 1950's et au début des 1960's. Nous allons scommencer par Celeste Records dont le groupe majeur est The Mellows qui enregistre 7 simples pour le label, le groupe est ici présent avec Lucky Guy, You've gone (accapella), I'm Yours, When the lights go on again (accapella), My darling, I call to you (accapella), Sweet lorraine, Lucky Guy (outtake), Ain't she got nerve, My darling (accapella), I'm gonna pick you teeth et une autre version de Sweet Lorraine c'est à juste titre que ce groupe est été de nombreuse fois enregistré par le label le style est parfait rythmée dans un style "Doo wop classic mi fifties logique étant donné que les enregistrements tournent autour de 1956 et 1958, autre groupe important du label The Four sounds qui enregistre au moins 2 simple répertorié pour le label ici présent avec You stole my heart et Afraid deux ballade mélancoliques, Noisy clock (un bon doo wop rapide) et Tall Lanky Papa (un rockin' doo wop avec de trés bon riffs de guitare), nous trouvons également The Minors avec un seul simple ici présent Jerry et Where Are You (dont une seconde version outtake) qui sont 2 ballades mélancolique, The Bill Down quartet Love Me, Kiss Me, Thrill Me (ballade vocal assez ennyeuse), Find Me True ( Rhythm & Blues vocal avec orgue), This Is The Real Thing Now (ballade mélancolique) et The Hi-Liters terminent ce tour d'horizons du label avec leur unique simple Undecided (rhythm & blues vocal rapide) et Ain't Giving Up Nothing (un trés bon rockin' doo wop).
............
The Hi-Liters - Ain't Giving Up Nothing
................
The four sounds - Noisy clock
......................