19 novembre 2010
5
19
/

11
/

novembre
/

2010
22:15
C'est essentiellement grâce à la tournée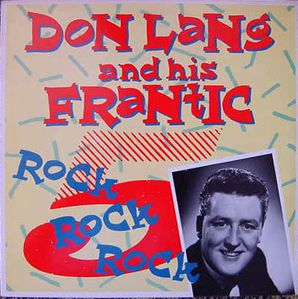 triomphale en Grande Bretagne de Bill Haley que le Royaume Unis découvre le Rock n'roll. C'est sans doute aussi pour cet raison que Gordon Langhorn (alias Don Lang) joueur de Trombone et chanteur fasciné par le rock n'roll forme Don Lang and his Frantic Five. Le style du groupe est un Jump rock sinspiré des enregistrements Decca de Bill Haley and his Comets. Le goût des teenagers britanique de plus en plus attiré par le Rock n'roll lui permet de devenir rapidement une vbedette nationale passant dans le show musical télévisé de la BBC Six Five Special. En 1958 il atteint le top ten des charts de Grande Bretagne grâce à sa cover très rock n'roll de l'amusant Witch Doctor.
L'ensemble de ses faces 1950's sont d'une qualité irréprochable dont certaines compositions comme son fameux Red Planet Rock de 1956 sont de véritables merveilles. On peut noter aussi en 1955 Cloudburst / Seventeen (cover des Fontane Sisters), en 1956 Rock Around the Island / Jumpin' to Conclusions, Rock and Roll Blues / Stop the World I Wanna Get Off, Sweet Sue Just for You / Lazy Latin et son classique Red Sputnik Rock (Red Planet Rock) / Texas Tambourine, en 1957 Rock Around the Cookhouse / Rock Mister Piper, Rock-A-Billy (cover de Guy Mitchell) / Come Go With Me (cover des Del Vikings) et School Day (Ring! Ring! Goes The Bell) (un cover de Chuck Berry qui lui permet de d'arriver à la 25 eme place des charts), Witch Doctor et A Hoot and a Holler / See You Friday et c'est en 1960 avec Sink the Bismarck qu'il obtient un dernier petit tube se classant à la 43 eme place des charts britanniques.
Devant son succès
artistique, il fait repeindre avec humour sa Vauxhall Cresta en rose en référence à la Cadillac Rose d'Elvis Presley. Au début des sixties il revient en studio reprenant des classiques du rock us des 1950's avec (mode du twist oblige) des chœurs qui chantent en rythme les mots Twist ! twist ! rajouté en studio !!
On peut noter également que l'on retrouve Lang au trombone sur le titre Revolution 1 un morceau du White album des Beatles. Il se retire de la musique à la fin des 1980's, de son côté son fils Brad est bassiste sur des sessions de groupes comme ABC, Jade Warrior, Wham ! et Whishbone Ash. Don Lang décède d'un cancer à 67 ans tandis que ses enregistrements 1950's sont réédité par Castle Communications.
Je posséde l'indispensable 33 tours Charly records / See-for-miles records (CM 119) Don Lang and his Frantic 5 Rock rock rock, contenant 22 excemllents jump rock n'roll soit de 1956 Come go with me, Rock and roll blues, Rockaround the island et I want you to my baby, de 1957 Red planet rock, Texas tambourine, School day, Rock mister piper, rock around the cookhouse, Rock, rock, rock, rock-a-billy, Six five special et Four brothers, de 1958 Queen of the hop, Ram shackle daddy, 6-5 hand jive, Tequila, Hey Daddy et Witch doctor, de 1959 See you friday et de 1960 They call him cliff et Time machine.
J'ai également l'étonant The original Don Lang & the Twisters Top twenty twists sur See-for-miles records (SEE 35) qui compile 20 titres de Don Lang avec un nouveau groupe the Twisters enregistré en 1962 sur Decca records. The twisters sont en réalité un groupe de sessions
réuni par le producteur Jack Good est formé par Red Price au saxophone, Reg Guest au piano, Andy White à la batterie, Big Jim Sullivan à la guitare et les Vernon Girls aux choeur faisant des: "Twist! twist!. La qualité est là mais cela reste des titres infèrieur saux enregistrements 1950's de Lang avec ses Frantic 5. Nous trouvons les titres Whole Lotta Shakin´Goin´On (Jerry Lee Lewis), Great Balls Of Fire (Jerry Lee lewis), Rock Around The Clock (Bill Haley and Comets), I Go Ape (Neil Sedaka), Move It (Cliff Richard), Jailhouse Rock (Elvis Presley), Way Down Yonder In New Orleans (Gary Us Bonds), Wiggle, Wiggle, What´d I Say (Ray Charles), Quarter To Three (Gary Us Bonds), Hit The Road Jack (Ray Charles), Sweet Little Sixteen (Chuck Berry), All Shook Up (Elvis Presley), Chantilly Lace (The Big bopper), Shake,Rattle And Roll (Bill Haley and Comets), Yakety Yak (The Coasters), Be-Bop-A-Lula (Gene Vincent and Blue Caps), Hound Dog (Elvis Presley), Splish Splash (Bobby Darin) et New Orleans (Gary Us Bonds).
Enfin je possède le fameux Ep 45 tours Don Lang and his "Frantic Five" La voix de son maitre (7 emf 156) rassemblant les titres Witch doctor, Red planet rock, Cool baby cool et Texas tambourine.
Don LANG & His Frantic Five " Boy Meets Girl " !!!
Don Lang & His Frantic Five - White Silver Sands [1957]
Don Lang - Red Planet Rock
DON LANG & HIS FRANTIC FIVE - 'Rock Mister ...
DON LANG & HIS FRANTIC FIVE - 'White Silver Sands'
DON LANG & HIS FRANTIC FIVE - 'School Day
DON LANG & HIS FRANTIC FIVE - 'Rock Around The Cookhouse'
DON LANG & HIS FRANTIC FIVE - 'Hey Daddy'
DON LANG & HIS FRANTIC FIVE - '6-5 Hand Jive'