19 octobre 2012
5
19
/

10
/

octobre
/

2012
18:45
Don Julian & the Meadowlarks est une formation doo wop qui enregistre entre 1954 et 1958 sur Dootone records puis Original sound. Le label anglais Ace records leur consacre un album Heaven and Paradise en 1995.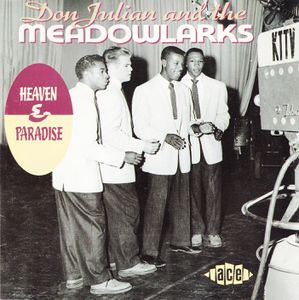 On trouve de 1954 Love Only You un bon doo wop rapide dans le style de Geedes Crows, Pass The Gin est un rhythm and blues vocal medium, L F M S T Blues une ballade blues vocale et Real Pretty Mama un ryhythm and blues vocal rapide, de 1955 Heaven & Paradise , This Must Be Paradise et Always And Alwaysdes ballades doo wop,I Got Tore Up un rock 'n'roll vocal rapide de bonne facture (présent sur le disque en 2 versions), Embarrassing Moments un rhyhtm and blues vocal rapide et Mine All Mine un rock dans le style de Bobby Day, de 1956 Oop Boopy Oop un rhythm and blues vocal rapide dans le style des Cadillacs, Boogie Woogie Teenage un rock 'n'roll rapide, Thrill Me Night And Day un doo wop rapide, Please Love A Fool et I Am A Believer des ballades mélancoliques, de 1957 Untrue une ballade mélancolique, Blue Moon la fameuse ballade reprise et Big Mama Wants To Rock un superbe rock 'n' roll rapide, entre autres par Elvis Presley chez Sun et en Doo wop effréné au début des sixties par The Marcels, et de 1958 sur Original sound ayant quitté Dootone records Doin' The Cha-Cha un doo wop cha cha cha medium et un peu kitch, Please (Say You Love Me) un ballade doo wop classique, et des inédit comme Devil or Angel un doo wop medium des Clovers et enregistré à l'époque pour Original Sound.
Un disque plutôt réussi jamais ennuyeux dans les ballades et vraiment remarquable au niveau des titres rapides, pour un groupe se plaçant dans la lignées stylistique de formation comme the Cadillacs ou the Eldorados.