7 août 2010
6
07
/

08
/

août
/

2010
08:14
Dizzy Elmer est un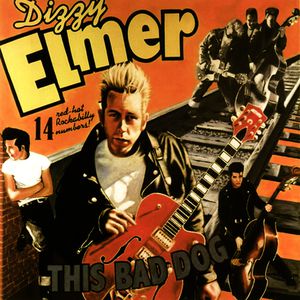 trio de Rockabilly originaire de Portland (Oregon), formé de Spud Lee Murphy à la contrebasse, Jethro Grady au chant et à la guitare et Skeeter "Boy" Joplin à la batterie. Comment souvent c'est par le biais de leurs préstations scéniques dynamiques et plein de fougue qu'il se font une réputation et une renomée régionalement. En 2000 ils enregistrent leur premier album produit par Wally Herson (des Fly-Rites Boys de Big Sandy) sur Texas squid Dizzy Elmer 14 red-hot Rockabilly numbers This Bad Dog.
Cet album est arrivé à capturer toute l'ambiance et la magie de leurs concerts devenu légendaire dans tout les clubs du Nord Ouest des USA. C'est à Los angeles sur du matèriel d'enregistrement d'époque qu'est réalisé cet album, on peut noter la présence de Ashley Kingman (guitariste de Big Sandy) sur le titre Fannie Mae.
On peut noter que le groupe tournera au côté de Big Sandy and his Fly-Rite Boys, the Half-A-Horton all-star band, Deke dickerson and the Eddo-Fonics, Smith's Ranch boys et Kim lenz and her Jaguars.
L'album This Bad Dog contient 14 titres de rockabilly dont de trés bonnes compositions originales comme Dizzy Mo (un rockabilly rapide avec une bonne mélodie et une instrumentation parfaite), Fannie Mae (qui n'a rien n'a voir avec le titre de Buster Brown est un trés bon rockabilly médium avec une superbe mélodie), You got two (est un médium néo rockabilly avec une mélodie moderne), Big Legged Woman (un irréprochable rockabilly authentique), Darlin' Come home (un rockabilly classique influencé par le style de Buddy Holly), To be with you (magnifique ballade rock n'roll dans le style des meilleurs Jack Scott), Where you been ? (un néo rockabilly teinté de jazz médium avec une mélodie moderne ) et This bad dog (un solide néo rockabilly à la mélodie moderne), au niveau des covers nous trouvons une trés originale version de 16 tons (écrit par Merle Travis et qui sera un immense succés pour Tennesse Ernie Ford) qui se caractérise par un fabuleux solo de guitare parfaitement soutenu par la batterie et la contrebasse et surtout la voix un must, Love me (cover dynamique de ce classique de la pèriode rockabilly de Buddy Holly and the Crickets), Wizzle Bigsby ( un trés bon titre que je ne connaissait pas de Carl Perkins!!), Don't come back knockin' (un rockabilly de Buddy Holly), Could she kiss (le rockabilly sauvage et classique de David Houston) et Honky tonkin' (de Hank Williams).