19 octobre 2012
5
19
/

10
/

octobre
/

2012
15:32
Devil Doll est une formation de Los Angeles de néo rockabilly teinté de Jazz, musique latine et punk,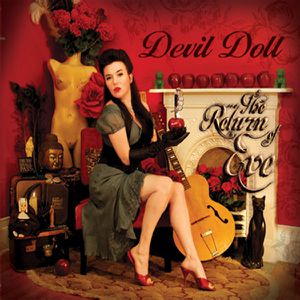 dont le leadeur est la chanteuse Colleen Duffy. Le groupe enregistre en 2007 pour Lucky Bluebird Records l'album
The Return of Eve
dont la photo de recto à une mise en scène assez amusante. Il débute par
The One Who Got Away
un rockin' jazz assez original et au son moderne,
Doreen
est un néo rockabilly country rapide assez bon,
Gypsy Bitch
est une ballade country,
Man In Black
est un rock moderne medium,
St. Patrick
est un country rock medium avec une bonne mélodie teinté qui se termine en rock rapide dans lequel on entend une influence irlandaise,
Sweet Lorraine
est une ballade rock 'n' roll à la fois moderne et dans la tradition des slows des 1950's avec un bon écho à la guitare ,
The Curse
est un rock 'n' roll rapide dans le style de Little Richard avec gros son de guitare, T
ortured
est un pop folk à la mélodie réussie, Th
e Way You Do
est un blues rock,
Lord's Prayer
est un country rock medium avec une bonne construction et une mélodie réussie,
Sexy
est un rock assez déjanté entre riffs des Clash et passages avec sax aux sonorités arabisantes,
Que
e
n Of The Road
est un rockin' blues medium,
Heads Or Tails
est un rock moderne plus lent et se termine par une cover de
Fever
de Peggy Lee.
Cet album est plutôt du genre moderne, mais d'une qualité artistique et musicale qui ne m'a pas laissé insensible.