27 avril 2011
3
27
/

04
/

avril
/

2011
00:20
Cold Blue Rebels est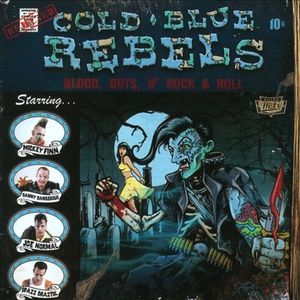 une formation Néo rockabilly, psychobilly originaire de Hollywood (Californie . USA) formé par Mickey Finn au chant (ancien Jetboy), Joe Normal à la guitare, Spazz Draztic à la contrebasse (deux anciens membres des Zeros) et Spazz Draztic à la batterie (ancien Glamour Punks).
En 2011 ils sortent l'album Blood, Guts 'n' Rock & roll, le recto au design trés réussi s'inspire des comics d'horreur américains des 1950's et 1960's, et la musique en majorité du néo rockabilly post Stray Cats nous fait pénétrer dans leur univers macabre de rockers zombies avec ses cris, ses cercueils et ses vampires.
Le résultat quoi qu'assez surprenant est dans la continuité entre autres de grands maitres de l'épouvante Rock n'roll comme Screaming Lord Sutch, Screaming Jay Hawkins et d'une frange du psychobilly. Leur style personnel pourait être considerré comme du Psycho horror Rockabilly.
Le premier titre Procession Of The Crypt Keeper de 69 secondes est en réalité une introduction musicale semblable à celle de serie B d'épouvante, Cold, Blue And Beautiful est un néo rockabilly rapide assez réussi, Hell Block 13 est un titre psycho dans les règles, Worm Hole Hooker est une ballade néo rockabilly dans le style des Stray Cats, Pumpkin King est un rock avec harmonica avec une intro rappellant Brand new Cadillac de Vince Taylor, Big Boss Man est une ballade psychobilly dans le style des Meteors, Lil' Grave Robber est un psychobilly radical punk, Sock Hop Strangler est un néo rockabilly médium, Brain Food est un psychobilly punk, Zombie Love est uns trés bonne ballade doo wop typée fifties avec son vintage et Riot In Cell Block 9 est une étonante cover psycho speed du classique des Coasters.
En gros un disque à déconseillé aux puristes mais qui raviera l'amateur de rock n'roll déjanté.
Cold Blue Rebels - "Worm Hole Hooker"
COLD BLUE REBELS - HELL BLOCK 13
Cold Blue Rebels

- Big Boss Man
- Live at the Old Town Pub
Cold Blue & Beautiful by

COLD BLUE REBELS