5 juin 2012
2
05
/

06
/

juin
/

2012
15:35
Il s'agit d'un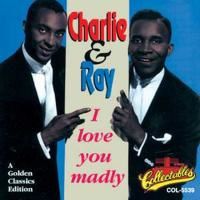 duo masculin de rock 'n' roll noir des plus explosif. Ils obtiennent en 1955 leur premier hit pour Herald record I love you Maldy un rock assez sauvage avec en face B la ballade You're to blame. Stylistiquement ils sont originaux leurs voix fonctionnent comme une formation doo wop dont les voix basses sont remplacées par le saxophone. Ils enregistrent ensuite une série de simple pour Herald sur le même principe avec un Rock rapide couplé à une ballade ou un titre plus medium comme cela sort les simples My lovin' baby /Take a look, Dearest one (un autre rock rapide) qui fait un nouveau hit, Oh gee ooh wee / Guess i'm through with love, Little fool /I gotta have you et Closest thing to an angel /Mad with you baby.
Leurs faces d'une incroyable énergie leur permettent d'obtenir une bonne célébrité mais dés 1956 – 57 ils disparaissent du devant de la scène.
Grâce au label Collectable et l'album I love you Maldy nous pouvons entendre leurs très bonnes faces du duos, nous trouvons des rock 'n' roll rapide soit I Love You Madly (avec un rythme rapide,une bonne mélodie, un jeu de voix original créatif et un très bon solo de sax qui est aussi présent dans une version plus lente), My Lovin' Baby, Little Fool, Dearest One ( un rock rapide avec un accompagnement de piano et un style vocal qui ici n'est pas sans rappeler les Collin's kids !!!), Sweet Thing, Mad With You Baby (au style rockabilly !!) des rock plus medium I Gotta Have You, Oo Gee Oo Wee (un jump jive), Tag Along et Closest Thing To An Angel (ces deux derniers teintés de calypso !!), des ballades rhythm and blues medium Certainly Baby, Take A Look At Me, et des ballades doo wop Oh Yes , You're To Blame et Guess I'm Through With Love.
En résumé c'est superbe et génial j'ai adorré.