15 octobre 2012
1
15
/

10
/

octobre
/

2012
21:59
Bobby Curtola ( alias Robert Allen "Bobby"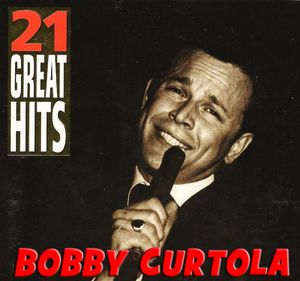 Curtola est un des premier rocker et teenage idol canadien né en 1943 à Port Arthur (Ontario).
Il obtient au début des sixties des tubes au niveau national Hand In Hand With You et Indian Giver, et en 1962 il obtient un succés majeur au niveau international avec Fortune Teller.
American Hall of Fame Recording lui consacre un album 21 Great Hits. qui débute par son tube Fortune Teller(1962) qui est un très bon teen rock medium à la mélodie, la voie et à la production parfaite, Aladdin (1962) , Footsteps (1967) et Making Love (1965) sont des teen rocks rapides très réussis, Three Rows Over (1963), You're Not A Goody Goody (1964), Destination Love ( 1963)et Gypsy Heart (1963) sont des teen rocks mediums assez bons, Hitchhiker (1961) est un rock sixties medium, Wildwood Days (1966) est un bon rock n'roll rapide dans le style de Jackie Wilson, Corrina,Corrina est la cover du classique de Joe Turner et popularisé par Jerry Lee Lewis et Ray Peterson dont Curtola s'inspire mais avec beaucoup d'originalité, Walking With My Angel (1965) est une cover personnelle du succès de Bobby Vee, You Must Belong To Me ( 1962) et un blues rock medium, High Tone est un country rock medium et Born To Sing un country rock rapide et convainquant, Don't Sweetheart Me (1961), Hand In Hand et Come Home Little Girl (1964) sont des ballades teen rock mediums, Little Girl Blue (1964) et If All Goes Well sont des ballades teen rock.
Même si la production ne fait aucun doute sur le style teen rock des faces de Bobby Curtola, il faut admettre que la quasi-totalité de cet album respire l'énergie et le rythme avec de bons moments de rock 'n'roll.