16 novembre 2010
2
16
/

11
/

novembre
/

2010
00:18
Bob Crewe de son vrais nom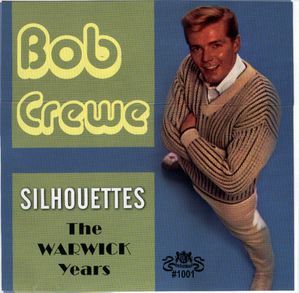 Stanley Robert Crewe est né le 12 Novembre 1931 (à Newark - New Jersey) sera producteur, compositeur de génie. Nous allons ici nous interresser à sa carrière de chanteur souvent meconnu du grand public.
Il écrit et interprette le hit Doo wop de 1957 ( en avance sur le son de l'époque) Silhouettes avec The Rays (N°3 au billboard). En 1958 il produit Lah dee dah pour Billy and Lillie sur Swan records qui devient un hit (N°9 au Billboard), il particippe également aux sessions qui donne le son à Freddy Cannon de Thalahassee Lassee et Okefenokee.
Au début des sixties Bob Crewe écrit avec Bob Gaudio (ancien membre des Royalteens et compositeur de leurs tubes Short shorts) quelques uns des plus gros hits des Four Seasons de Frankie Valli comme Sherry, Big girls don't cry, Rag doll, Ronnie, Walk like a man, Bye bye baby et Connie-O.
Le succés du son Crewe lui permt de produire des artistes majeurs de l'époque comme Dee Dee Sharp, The Orlons et Ben E King. Il continue avec succés à produire des artistes jusqu'u début des années 2000's.
L'oeuvre discographique de Bob Crewe en tant qu'interprette est beaucoup plus obscures deux albums compilations CD paraissent en 2007 compilant les faces de Crewe. Le premier The Warwick Years (Warwick "2001) est assez inégal contenant certaines petites perles de teen rock et néo doo wop mais aussi des titres variété ou crooner plutôt indigestes. Soit 27 titres: Silhouettes, Let me entertain you, All the things you are, She's only Wonderful, Ain't that love, Autumn reverie, Kicks, The Whiffen poof song, Bess, you is my woman now, Let's pretend, Shakin' the blues away, Bye bye blackbird, Cool time, Quite a picture, Ev'ry time, Oh how i miss you tonight, let's get serious,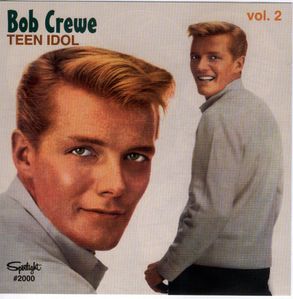 To ev'ry girl, Little girl of mine, crazy in the head, Luck be a lady tonight, Love's not for me, It's to soon to know, This little girl of mine, Water boy, Smilin' through et Azure.
Le second album cd Teen Idol Vol.2 Spotlight #2000 est beaucoup plus interressant ayant une majoritée de titres rythmé se rapprochant soit du rock n'roll soit du doo wop dont certaines faces avec The Rays et the Cheerleaders. Des enregistrements sorties sur différents labels comme U.T. records, Spotlight, Abc-paramount, Vik, Coral et Brunswick nous trouvons les titres Daily, Swetie pie, Guessin' games, Don't call me chicken, I can't shake the blues, torn and tattered heart, Sweet talk, Of sun, the sea, and the sand, Charm bracelet (avec the Rays), Do be do be do (avec The Rays), I'm goin' home (on my way), One more lie; Swingin' family tree, La la loretta, One more tear, After the ball, Melody for lovers, Can't get away from it, Change of heart, bumble bee, The rhythm and the blues, how long, Penny, nickel, dime, quarter (on a teenage date)un trés bon jump rock à la Bill Haley, If took a long time (for the first time in my life), An angel is love, Punch (avec The Cheerleaders), It's all over (avec The Cheerleaders), This Nearly was mine et Although a good night kiss (avec Pat Laird).(A noter que les six derniers titres sont quand même assez indigestes car vraiment trop variété allant de la ballade sirupeuse à la variété à la Tom Jones.
Bob Crewe - Everytime
BOB CREWE Featuring THE RAY`S