23 janvier 2010
6
23
/

01
/

janvier
/

2010
01:21
En 1964 Chess sort un lp de 4 titres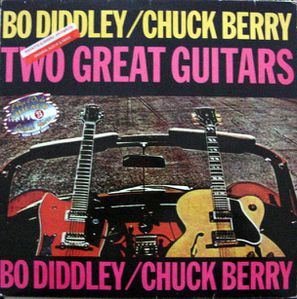 absolument indispensable à tout amoureux de la guitare rock Bo Diddley and Chuck Berry - Two Great Guitars (Chess 515023). Il est mis en boite au ter Mar recording Studio de Chicago en Mars 1964.
Nous trouvons sur la face A Liverpool Drive (avec Chuck seul qui fait de nombreux exercices de style de solo d'une grande beauté), Chuck Beat réuni Chuck Berry et Bo Diddley sur des improvisations dans le style de guitare de Chuck.
La face B est le même principe mais )à l'envers Bo Diddley fait une version trés personnelle du traditionnel When the saints go marching in et Bo's beat réunie Chuck et Bo dans des improvisation dans le style de jeux de Bo Diddley., Les titres en solo de Chuck Berry et Bo Diddley font en gros 3 minutes, par contre les deux morceaux en duo durent 13 minute pour Chuck's beat et 17 minutes pour Bo's Beat et étonnement ces improvisations sur leurs styles respectifs sont tellement géniales que l'on ne les entend pas passées. Un album légendaire et un des rares albums d'improvisations brutes et pures et sans arrangements postèrieure de l'histoire du vrais rock n'roll.