3 décembre 2011
6
03
/

12
/

décembre
/

2011
13:38
Black Cat trio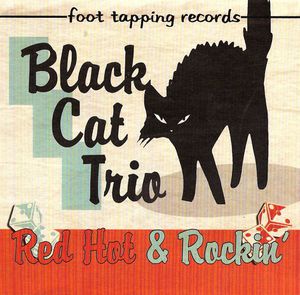 est un trio anglais de rockabilly formé par Bob Mason chant et contrebasse, Dave Unwin guitare solo et Andy Carruthers à la batterie. Pour Foot Tapping records ils enregistrent en 2011 l' album Red Hot & Rockin'.
Il débute par une cover de l'ultra classique rockin' blues Shake your hips de Slim Harpo, suivi de Red Cadillac and black Mustaches le fameux rockabilly medium immortalisé durant les 1950's par Bob Luman et Warren Smith, Long Blonde Hair l'incontournable white rock décappant de Johnny Powers, Rock 'n' roll ruby le rockabilly de Warren Smith et immortalisé par Johnny Carroll, Railroad track un autre rockabilly classique ici avec bruits de train, Gypsy Woman un titre méconnu de Burnette, All I Can Do Is Cry l'incontournable rockabilly rapide de Wayne Walker, Please Don't Leave Me titre de Fats Domino ici repris dans le style de la cover sauvage du Johnny Burnette Rock 'n' roll trio, Sag, Drag & Fall un rockabilly de Sid King and the Five Strings, End Of The Line est la seule composition originale du disque un bon rock vocal dans le style des Firebirds ou des Jets, You Don't Love Me est un néo rockabilly realisé à partir d'un titre de Billy Swan, Whenever You're Ready white rock medium genial de Bob Luman, Say Mama le célébrissime white rock de Gene Vincent, Matchbox l'incontournable chef d'oeuvre de Carl Perkins, Mama Please le superbe titre des un groupe rockabilly américains des 1990's et se termine par Stray Cat Strut l'un des gros tubes des stary Cats au début des 1980's.
Comme vous l'aurez compris ici pas une volonté de révolutionner le genre, mais un disque très agréable et réussi qui met bout à bout des titres classiques et incontournables de la culture Rockabilly dans des versions parfaites et sans bavures qui ne décevront pas les amateurs du genre.