15 mars 2010
1
15
/

03
/

mars
/

2010
21:42
Bill Fadden & the Silvertones Fliers est un groupe anglais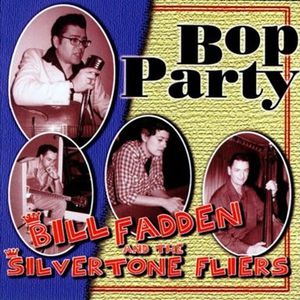 de Rockabilly authentique formé de Bill Fadden au chant et guitare rythmique, Buddy Coles à la guitare solo, katie -Jane Fielding à la batterie et Jack Boxwell à la contrebasse. Leurs influence est le son des rockabilly singers des fifties qui enregistraient sur les labels légendaires du Sud des USA (Sun, Starday, King et Meteor). Ils se forment en 1999, et en Aout 2000 ils font leurs premiers enregistrements pour Raucous records, suivit en 2001 par leurs premier album Bop Party! (Raucd 089) enregistré au Western Star Studios d'Alan Wilson.
Ils tournent ensuite dans des festivals de rockn'roll en Grande Bretagne (Hemsby rock n'roll weekend) et partout en Europe et même aux USA.
L'album particulièrement réussi stylistiquement et vocalement compile des compositions d'authentiques rockabilly comme Bop Party (excellent rockabilly rapide de style classique), Matter of time (Hillbilly rockabilly teinté de western swing), Crazy little fool (rockabilly medium trés réussi), Hurting bad (un bon western swing), Hot rod Honey (rockabilly rapide trés réussi), Give me a thrill (rockabilly medium à entendre absolument) et I Dig (un rockabilly psychotique à 2 voix aux riffs vengeurs fantastique) au côté de reprise de classique des fifties comme Speed Limit (white rock classique de Tommy Lam), All the time ( rockabilly rapide de Sleepy la Beef), Your Nearly lose your mind (Ernest Tubb), Mean mean woman (de Ray Lynn sur le label Glenn), Rockin' rollin' stone (le génial rockabilly d'Andy Starr), Rockin on my mind (rockabilly rapide et sauvage de Curley Griffin), Milcow blues boogie (Rockabilly médium D' Elvis Presley pèriode Sun) et Raging Sea (White rock déjanté de Gene Maltais).
En résumé un album des plus authentiques avec une qualité d'iterprétation et de composition qui aurait mérité d'être plus connu.
.