9 décembre 2009
3
09
/

12
/

décembre
/

2009
23:22
Big Sandy & his Fly-rite trio se forment en 1988 à Anaheim , et trés rapidement obtienent une sérieuse réputation dans le monde des fans de Rock n'roll rockabilly mais aussi de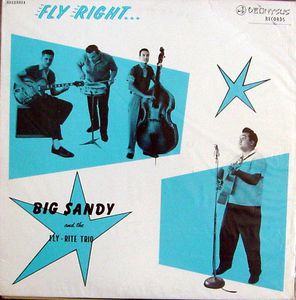 Country traditionnelle et western swing. En effet Big Sandy reconnait l'influence des Rock n'roll heroes comme Ronnie Dawson, Chuck berry ou Glen Glenn mais également celle des bluesmens comme Johnny guitar watson, Etta James ou Ray Charles (le premier concert qu'il vit avec ses parents fut un show du "Génius").et des chanteurs de western swing et de country.
C'est ce foisonnement culturel que l'on retrouve sur ses albums, même si chacun à son style propre.
Les Fly-Rite Boys sont formé de musicien comme Ashley Kingman à la guitare, Bobby Trimble à la batterie, et Lee Jeffriess à la steel guitare et de Jeff West (ou kevin Stewart) à la contrebasse.
Leur premier album de 1990 Fly right with (sur Dyonisos records) devient rapidement une référence dans le mileu du rock n'roll, et en 1992 ils sortent un second lp On the go (sur No hit records).
Ils changent en suite de label pour Hightone records et enregistre durant le reste des 90's Jumping From 6 to 6(1994), Swingin' West(1995), Feelin' Kinda Lucky(1997), Dedicated To You(1998) album sans les Fly-rite trio et Big Sandy Presents...(1998), mais ces derniers tout aussi réussis sont plus influencé par le hillbilly et le western swing que par le rock n'roll et le Rockabilly.
Je possède personnellement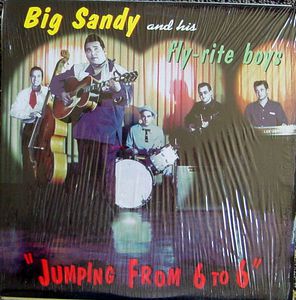 le fabuleux 1er lp Dyonisos (ID123314) Fly Right with... Big Sandy enregistré à Burbank en Californie. Le Fly - rite trio (et pas les Fly-rite boys qui sont 4 et des musiciens différents) st formé de Will B à la batterie, Wally Hersom à la contrebasse et T.K Smith à la guitare solo. Le style n'est pas sans rappeller sur certain titres le style du second album de Gene Vincent et ses Blue Caps, on peut noter en plus de leurs talents de musiciens, et un talent indéniable pour la composition de Sandy (de son vrais nom Robert Williams) qui compose seul Hot water, Hold tight mama, Moonshine rhythm, Big fat trouble, Let me love your right et Missouri Gal, avec les autres membres le tout aussi bon Miss Tracy.
Au niveau reprise nous trouvons Rock Rock de Johnny Powers, Kaw Liga de Hank Williams (traité dans le style rockabilly), High Steppin' de Cliff Blakley et Kiss-a-me baby de Narvel Felts.

L'autre lp de Big Sandy que je possède est le Jumping from 6 to 6 sur Hightone records (HT 8053) de 1994 qui est stylistiquement plus orienté hillbilly que rockabilly. Ici les musicien ont changé par rapport à l'album cité précédemment il reste Wally Herson à la contrebasse, mais Ashley Kingman est à la guitare électrique, Lee Jeffries à la steel guitare et bobby Trimble à la batterie, Brantley Kearns tient le violon sur 4 titres et Bobby Mizzell le piano sur Juiced.
Sandy écrit 10 titres Different girl, Someone like you, Who, tell me who (superbe), Hi-billy music, This ain't a good time, Honey stick around the while, This heart o' mine, Lookin' for a "love me" gal, Foothill boogie Juiced (également trés bon) et surtout le magnifique Jumping from 6 to 6 qui a donné son nom à l'album, Lee Jeffriess compose Barnward beatnick. Nous trouvons comme reprises When i found you de Jerry Reed, True blue de Frankie Miller et Honky tonk queen de E.G. Thornton.


BIG SANDY: "Hot Water" - Art Fein's Poker Party 1990

big sandy jumping from 6 to 6