22 avril 2010
4
22
/

04
/

avril
/

2010
22:16
American Hot Wax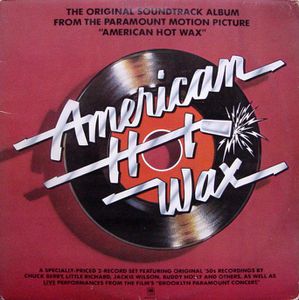 est un film hommage au légendaire disc Jockey Alan Freed réalisé par Floyd Mutrux en 1978. La bande originale est sur un double lp A&M records (LC 0485) se partage en deux lp spécifiques le premier contient un concert live réalisé pour le film (et visible dans ce dernier) enregistré dans le légendaire Paramount Theatre de Brooklyn, le second quelques classiques du rock n'roll de l'époque.
Le premier disque contient deux titres live de Chuck Berry Reelin' and Rockin' et Roll Over Beetoven, deux titres live de Jerry Lee Lewis Whole lotta shakin' goin' on et Great balls of fire, un titre live de Screamin' Jay Hawkins I put a spell on you, 2 classiques du Doo wop féminin noir Mr Lee (des Bobbettes) et Maybe (des Shirelles) repris en live par un girls group black de qualité les Delights (formé par Brenda Russell, Stephanie Spruill, Joyce King et Yolanda Howard), le doo wop rock blanc Rock n'roll is her to stay est repris par une bonne formation Doo wop blanche Prof Laplano & the Planotones (formé par Kenny Vance, Joe Esposito, Bruce Sudano et Ed Hokenson), les deux doo wop noir Why do you fools fall in love (de Frankie Lymon and the Teenagers) et That is rock n'roll (des Coasters) est repris avec talent en live par la formation de doo wop noire The Chesterfield (formé de Carl Earl Weaver, Sam Harkness, Arnold McCuller et Al Chalk), Mister blue (la ballade classique de teenage rock vocal des Fleetwoods) et interpretté en live par Timmy & the Tulips (formé par Charles Irwin, Jaennie Sheffield et Joan Harris), Clark Otis (Charles Green) chante Hey Little Girl (de Dee Clark) et le Hot Wax Theme un instrumental est interprétté par the Big Beat Band (en hommage à l'orchestre de Alan Freed).
Le second lp compile des enregistrements originaux d'époque de différents style du Doo wop avec Sincerely des Moonglows, There goes my baby des Drifters, Hushabye des Mystics, Zoom des Cadillacs, Little star des Elegants, When you dance des Turbans et Goodnight sweetheart goodnight des Spaniels, du black rock n'roll avec Sweet little sixteen de Chuck Berry, That's why de Jackie Wilson et Tutti Frutti de Little Richard et du rock blanc avec Splish splash de Bobby Darin et Sea cruise de Frankie Ford.
Planotones - rock n'roll is her to stay


The Delights - Mr Lee
The Chesterfields - Book of love (accapella)